Lemmy: a Stoke-on-Trent rock icon
To celebrate BBC Music Day 2017, the BBC placed forty blue plaques around the country. The aim was to celebrate areas outside of London which had its own stars that made an impact on the world of music. Of course, our home town Stoke-on-Trent has a great rock and roll heritage. It has produced three of the biggest hellraisers in rock and pop history. These, if you are unaware, are Slash (of Guns 'N' Roses), Robbie Williams, and Lemmy (of Motorhead fame).
It was Lemmy who deservedly got the local plaque. Indeed, Robbie already has a collection of them around the city. The closest Slash has come is a poster of him outside the now demolished public toilets. It was accompanied by the slogan 'I Need A Slash', and produced by local graffiti artist Pro Pig. After a bit of digging, we found out that the plaque would be placed at Vale Park. This is the home stadium of our favourite football team Port Vale FC. Lemmy was a local to the town of Burslem where the club is located, and also did one of his most memorable shows at the stadium.
One of the loudest shows in rock history
The show, Hard Rock Holocaust, also featured Ozzy Osbourne. It was reportedly a contender for the record books as the loudest rock gig of all time. In fact, the organisers had to pacify the local residents by paying for them all to go on a coach trip to the seaside town of Blackpool on the day! The honour of unveiling the plaque went to Ozzy Osbourne's Black Sabbath bandmate Tony Iommi. As a big fan of Black Sabbath, this was very exciting news.
Quite a decent handful of people were waiting at the main entrance to Vale Park when we arrived, most of them your typical rockers. We got a position by the barrier at the far side, and spotted Tony Iommi himself just inside. Liz Ellis from Radio Stoke was interviewing him, which we could hear, as well as another local legend, Legendary Lonnie. At 6.45pm, the ceremony took place, live on BBC Midlands Today. It was good fun listening to Tony tell stories about his memories of Lemmy, before unveiling the plaque.
It was all very short and sweet, but well worth nipping down the road to see a rock legend honouring another rock legend. Of course, Ace of Spades blared out on the radio, as it does at every Port Vale FC home game!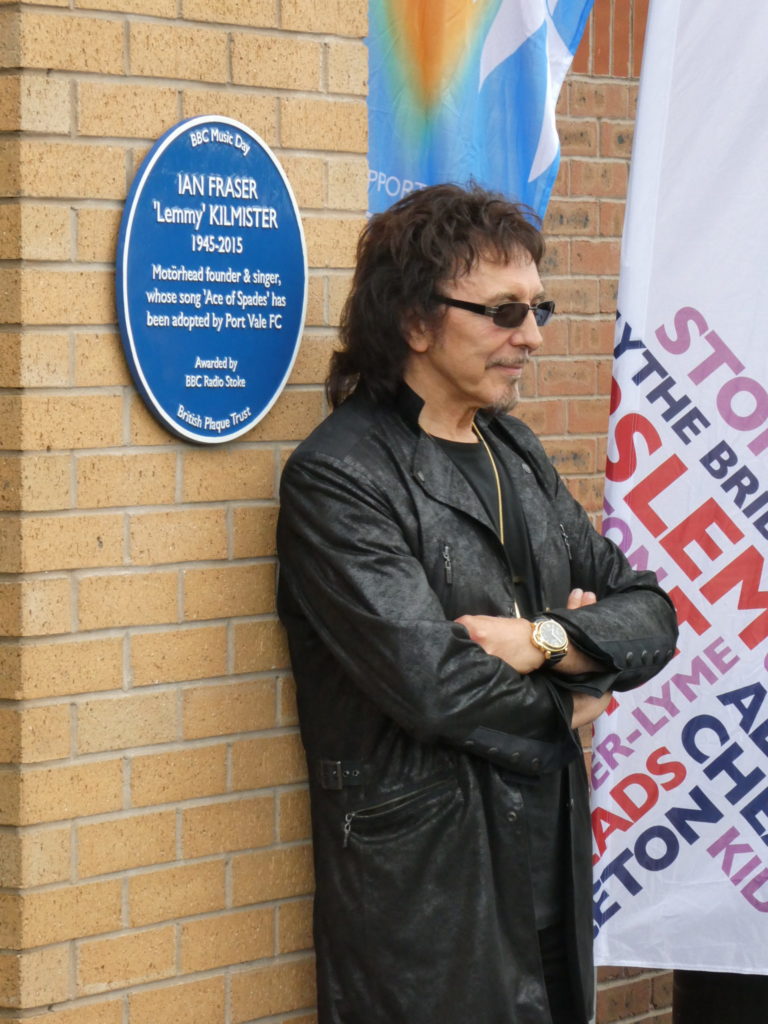 Are you a Motorhead fan? Have you ever seen a plaque unveiled and if so, who was it for, and who unveiled it?