Romantic Couples Travel Guide to Phuket
Thailand is a country world famous for paradise islands, and there may be no better place to start exploring them than the largest of all, Phuket. Found on the West Coast of the country in the Andaman Sea, Phuket benefits from having the best facilities of any Thai island. This ranges from a huge international airport, to resort hotels to match any budget, to activities galore. In fact, one of the hardest things to do on a trip to Phuket is plan an itinerary, since there is just so much to do! Therefore, we have come to the rescue with the ultimate planning guide to Phuket. Here is all you need to know to ensure a fantastic trip to Phuket!
THINGS TO DO IN PHUKET
NIGHTLIFE – Phuket is rightfully world famous for its raucous nightlife. Whilst there are plenty of options on the island, we recommend you start with the infamous Bangla Road. This short stretch of road might on first glance seem too small to offer much, but looks can deceive as you can find anything here, from a nice quiet drink to all-night raves. Some of the things on offer may have you rather baffled, like the perplexing amount of ping-pong shows being touted as you walk the gauntlet of Bangla Road. However, you are sure to find a bar, club or restaurant here that suits your needs. Just be prepared for the amount of sleazy goings-on you may encounter, for it is like pretty much nowhere else on Earth.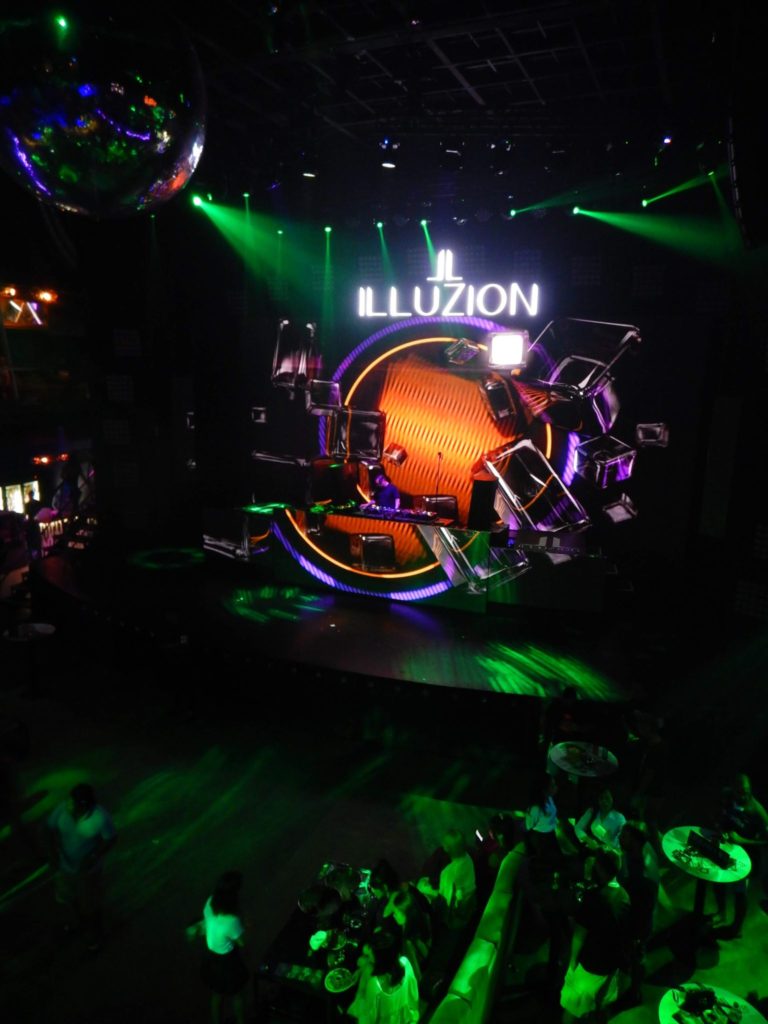 BEACHES – Patong Beach is the most popular beach, with a bustling, fun atmosphere. However, Phuket is blessed with beaches to suit everybody, from tranquil and remote patches of sand, to ideal spots for snorkelling and swimming. Be aware that rip tides can happen in Phuket, leading to treacherous conditions for swimming. Other beaches that we recommend include the more upscale Kata Beach, and picturesque Naiharn Beach.
PHI PHI ISLANDS – Just two hours away by ferry, it would be a shame to miss the stunning seascape of Ko Phi Phi if you have more than a few days in Phuket. We highly recommend joining a snorkelling trip from Five Star Travel Tours, based on Ko Phi Phi Don, to see the most of the islands in just one day. Even better, how about adding a couple of extra days to your trip to explore the islands at a more leisurely pace. We'll be writing a full guide to the Phi Phi Islands very soon, to give you even more ideas.
SEAFOOD – The trademark of Phuket's immense dining scene is fresh seafood. You can get quality seafood just about anywhere, from a small stand in the night markets to a fine dining experience with a renowned chef. It is a great pleasure to pick fresh shrimp from a food stall, and have them cook it for you right there and then. For a more memorable dining experience, be sure to order the rock lobster at least once!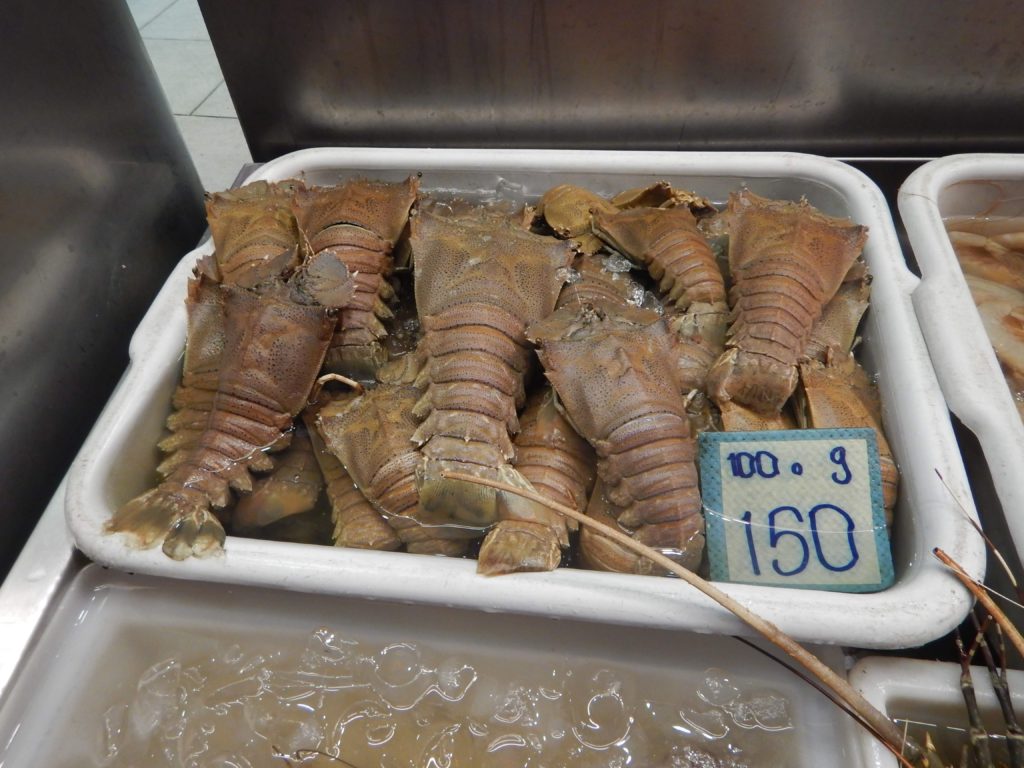 SHOPPING – As a vibrant tourist resort, Phuket caters to every shopping need you can have. For a more local experience, check out the Weekend Night Market, where you can haggle to your heart's content. However, for a more refined shopping trip, the modern and stylish Jungceylon Shopping Mall is a better pick. If you go in the evening, be sure to check out the beautiful fountain show outside.
PHANG-NGA BAY – If you do just one day trip outside of Phuket, then make it the Explore Phang Nga by Speedboat trip offered by Captain Mark of Phuket Sail Tours. With impeccable service, and a clever itinerary that keeps you away from the countless other boat trips on the bay, there is no better way to see the iconic limestone pinnacles of this tropical paradise.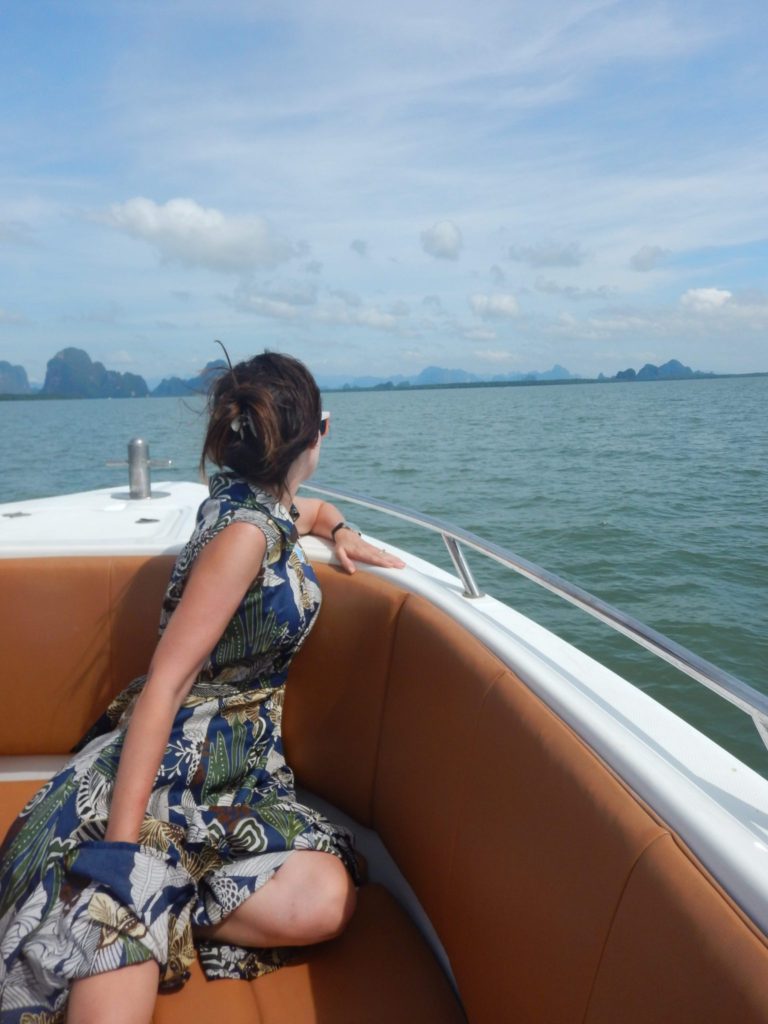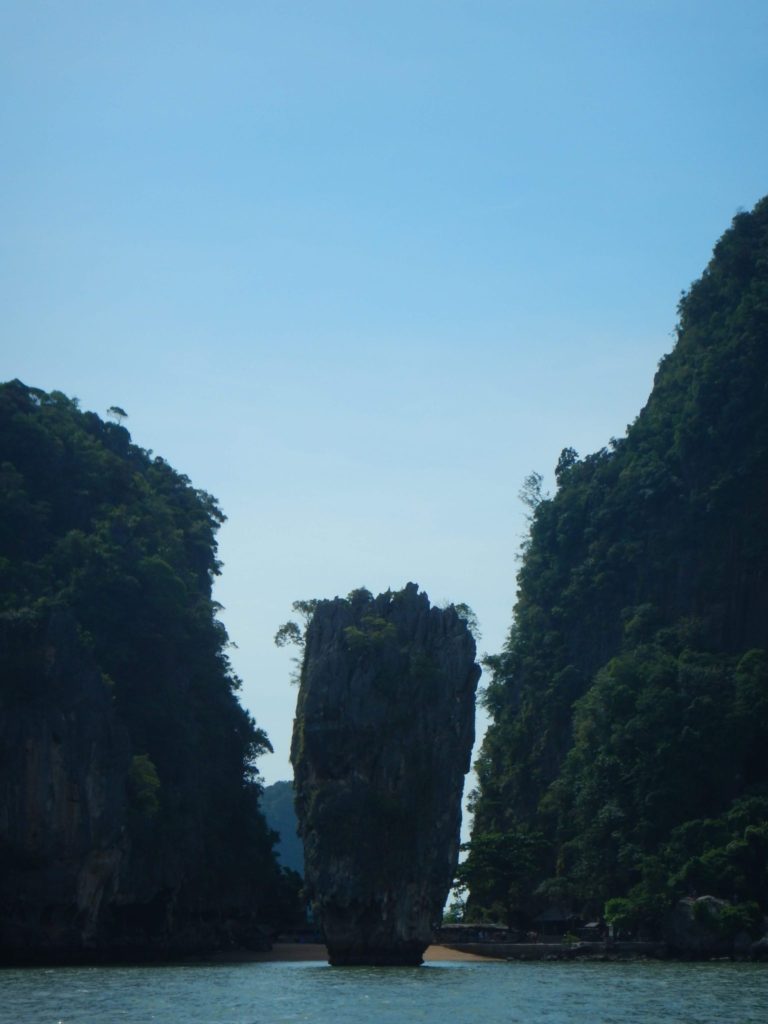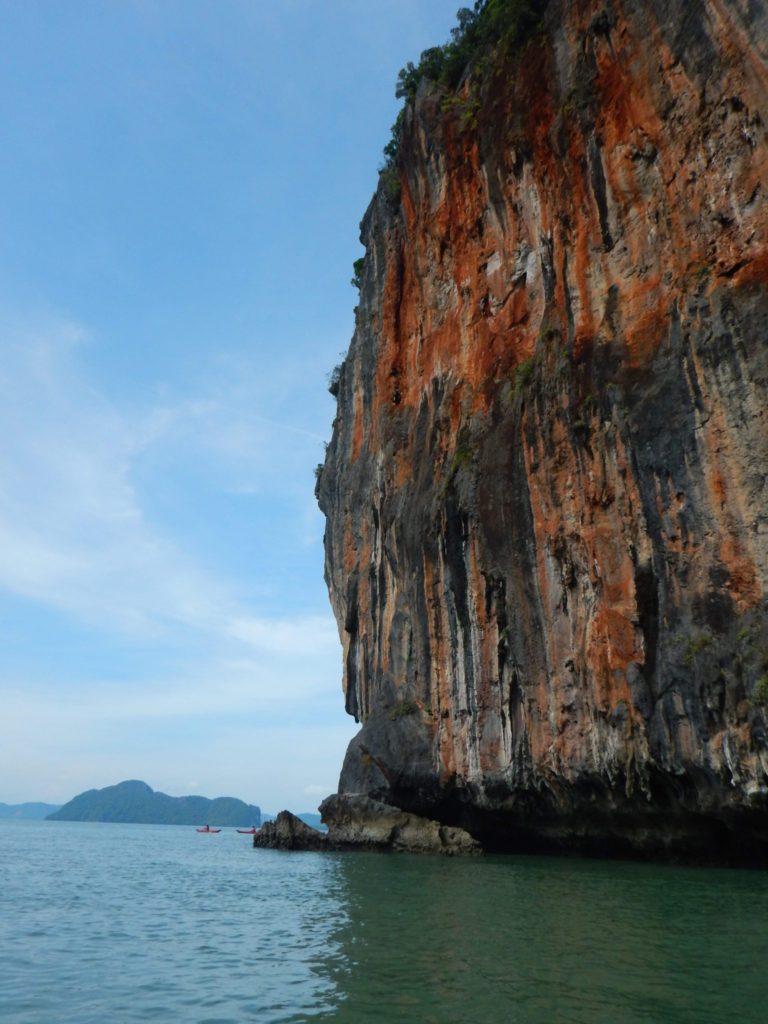 PHUKET BIG BUDDHA – With construction only starting in 2004, and still ongoing, you may wonder whether this is worth seeing. However, it most certainly will inspire a sense of awe and wonder. It is Thailand's third tallest statue and sits in a commanding location on top of a hill. Taxis are expensive, so your main options are to hire a motorbike, or take a tour. See right below for details.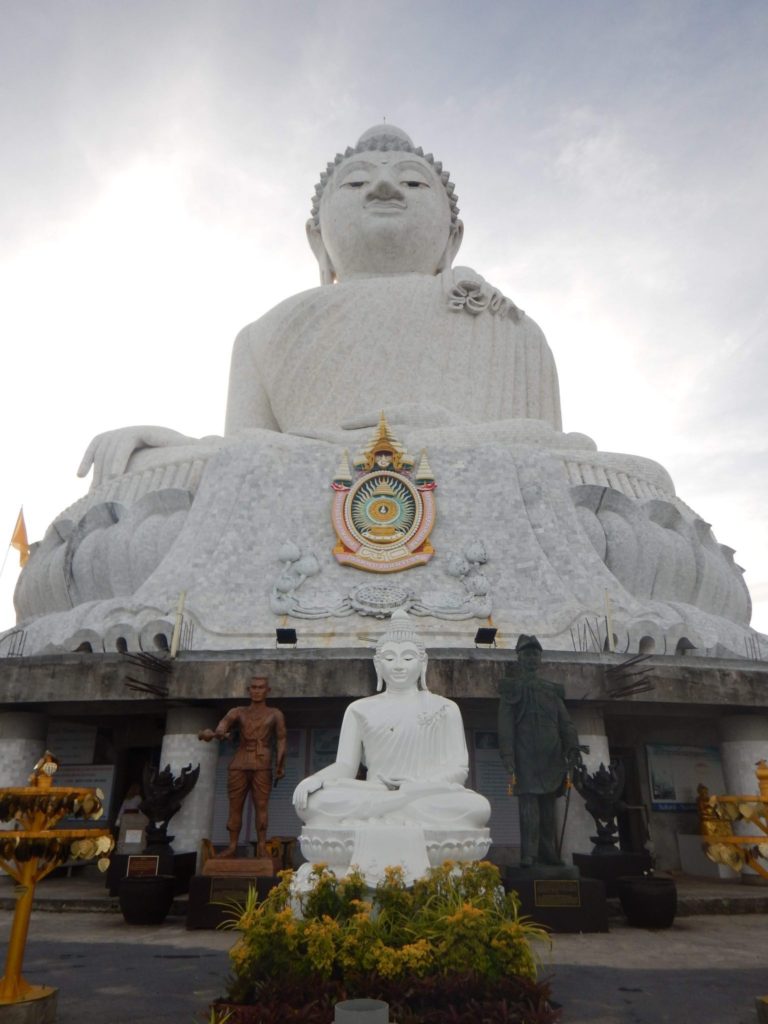 DEEP-SEA FISHING – Phuket's waters are famous for big catches such as Sailfish and Barracuda. We had an enjoyable day trip with Real Info Phuket, which took us to some of the best fishing spots, as well as including a delicious lunch. For a more relaxing day out on the sea, this trip is hard to beat.
PHUKET CITY TOUR – There is very little public transport in Phuket. Therefore, we recommend taking a city tour, with one of the many agencies, to see many of the 'sights'. We hate tours in general, since we don't like to be on a tight schedule or follow around a tour guide. However, the tour we took left us completely alone to explore the sights, with the only limitation being the time we had to be back on the minibus, which in fact was plenty. The tour took us to  Old Phuket Town, a gems museum, cashew nut factory, honey farm, Wat Chalong, the Big Buddha and the Kata Viewpoint. It did also include a disappointing elephant attraction, but you can sit it out. The price for the whole tour would be much less than just a return taxi to the Big Buddha alone, even for two people. Therefore, if you want to see the Big Buddha, and we recommend you do, then it is a no-brainer, as long as you have around five hours to spare.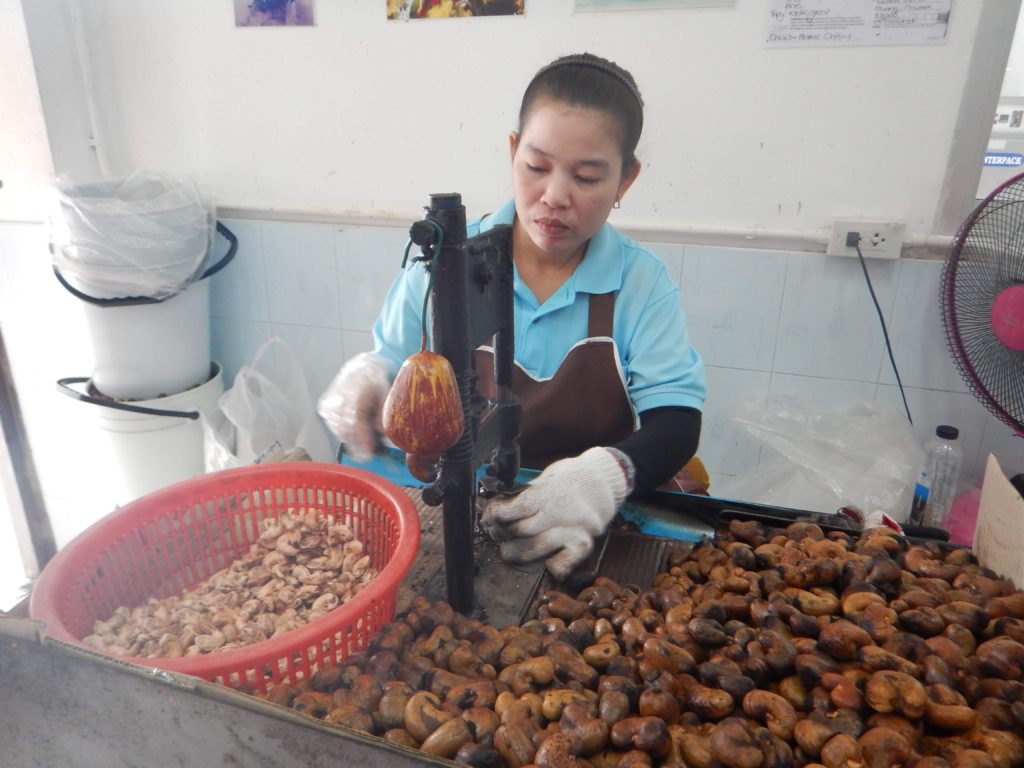 OLD PHUKET TOWN – Colonial architecture and beautiful colours make a stroll around Phuket Town a wonderful way to spend an afternoon. You can feel a big difference from the resort towns in the atmosphere of the place, and of course the dining options are much more affordable here. So is the accommodation, though we wouldn't recommend staying here when there are world class beach resorts so close by.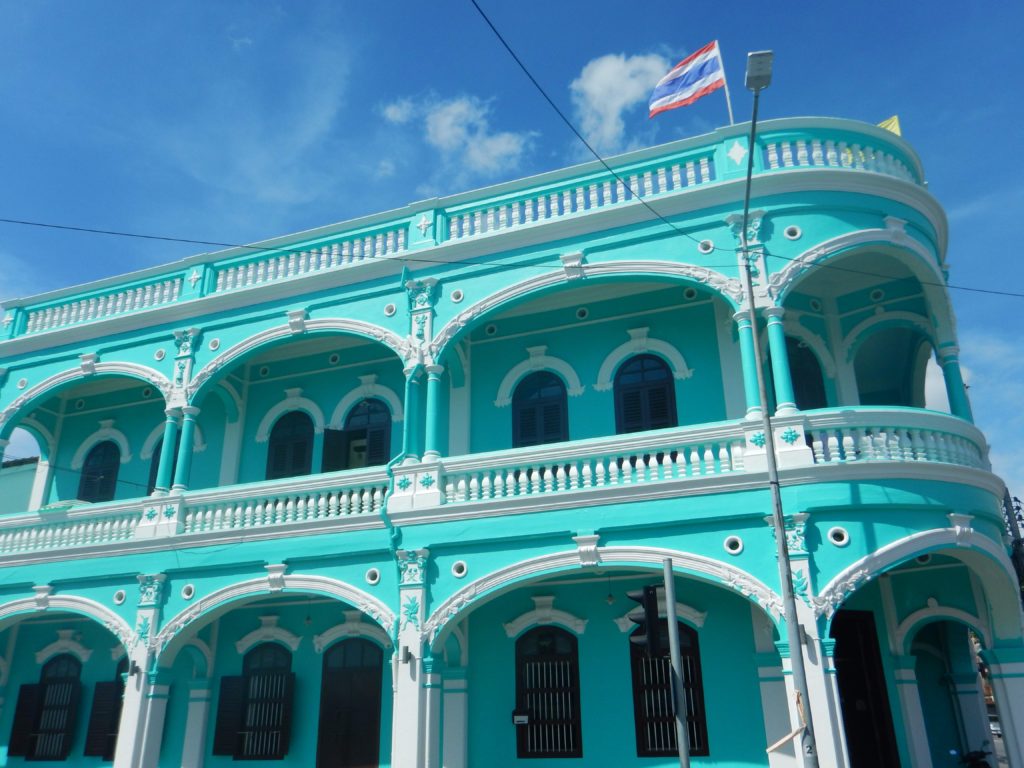 KHAO SOK NATIONAL PARK – For something completely different, why not try a jungle experience. It would be a long day-trip, so it would be ideal to spend at least one night in Khao Sok, which has a wide variety of accommodation options. You can take a short hike through the lush vegetation by yourselves, but you technically need a guide to venture further into the jungle. We did a night safari with Khai Jungle Experience, which involved a terrifying stroll through the pitch black jungle, spotting countless potentially deadly animals, and a memorable dinner cooked using, and even served on, freshly cut bamboo!
WAT CHALONG – Phuket has 29 Buddhist temples, but if you only visit one, make it Wat Chalong. It is an absolutely stunning place to visit, with opulent surroundings and the sight of many devoted followers of Buddhism performing all sorts of intriguing rituals is one that you won't forget. This temple was included on the city tour that we took.
HOW TO GET TO PHUKET
Phuket's International Airport is the third busiest airport in Thailand. It offers flights from a huge amount of Asian cities, as well as many further-flung cities in season. You can check flights, and compare prices on Skyscanner.
There is no railway station in Phuket, so your best way of getting around without flying would be on bus. Regular buses will take you to Bangkok, and onwards to many destinations in the region.
To get to nearby islands, such as Ko Phi Phi, and Koh Lanta, you can take a ferry. They are fast and convenient.
Getting around the island is one of the hardest parts of travel to Phuket. Of course, if you hire a motorbike, you gain considerable freedom to explore. However, be aware that there are many accidents involving foreigners on Phuket, and the police are renowned for pulling over non-locals and imposing fines for not following the rules to the letter. Taxis are very expensive for those on a budget. See if you can work out how to use the songthaews, which are small open-backed vans. Alternatively, join a city tour to see some of the more spread out sights on the island.
WHERE TO STAY ON PHUKET
Luxury? Stay at the Dusit Thani Laguna Phuket. Set within acres of tropical gardens and just a few minutes' walk from the beach, this place has all the amenities to give you a truly luxurious. Book now, on Booking.com.
Mid-range? Avista Grande Phuket Karon, from the MGallery Hotel Collection is also a 5-star resort, but available at a much more affordable price. It is well located near to Karon Beach, as well. Book now, on Booking.com.
Budget? Navatara Phuket Resort is very reasonably priced for such a comfortable hotel. It has a lovely swimming pool, and spacious rooms. Book now, on Booking.com.
Looking for somewhere even cheaper? Try Airbnb, where you can find some unusual and fantastic homestays in more traditional surroundings. Click our special link to receive £25 off your first stay!
Free? Couchsurfing is a vibrant community of over 14 million world travellers, who host others on their travels.
WHERE TO EAT ON PHUKET
Special occasion? Siam Supper Club offers a great ambience for a romantic evening, with intimate lighting and live jazz music on offer. The steaks come highly recommended too, which might be a nice change from the ubiquitous Thai food.
Local food? Vista, in the above-mentioned Avista Grande Phuket Karon, has a legendary Thai dinner buffet on Friday nights. It offers a perfect chance to try many different Thai dishes, especially for those of you who are not familiar with the cuisine.
Cheap and cheerful? Napoli in Vista offers something relatively hard to find in Thailand, which is quality pizza! It does Thai food as well, so a perfect compromise if one of you craves home comforts, whilst the other wants to try something local.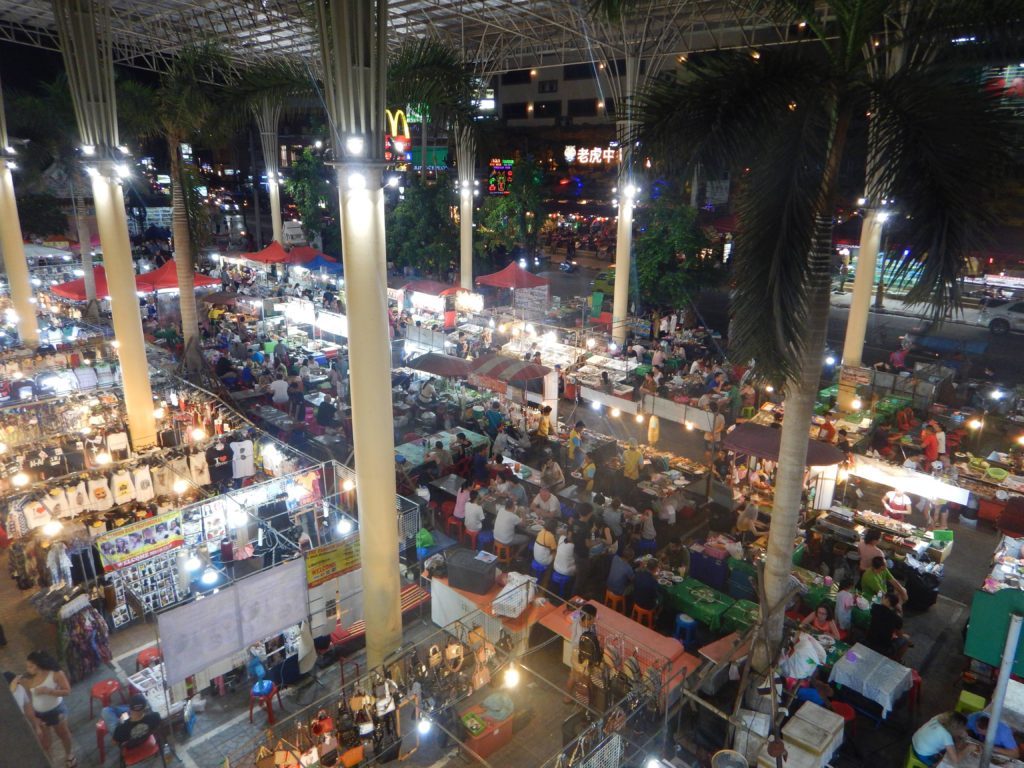 OTHER TIPS FOR YOUR TRIP TO PHUKET
How to pronounce Phuket? It is one of the most mispronounced place names going, but you should say "poo-get".
Phuket is not the sort of destination that you should plan in too much detail. Much of its appeal lies in its atmosphere, relaxing on the beaches, or enjoying the vibrant nightlife.
That said, you should allocate one day at least to see sights such as the Big Buddha. A half-day tour available from any of the travel agencies is a great way to see many sights in a short time, without rushing any of them.
Phuket is surrounded by truly amazing destinations, and you should try to include at least one or two excursions to other parts of Thailand whilst you are so close. Our picks would be the Phi Phi Islands, Phang Nga Bay, and Khao Sok National Park. However, you could also add Koh Lanta or the Similan Islands to your itinerary.
Activities are also immensely popular in Phuket. Our pick would be a deep-sea fishing trip. However, scuba diving, snorkelling, a visit to an elephant sanctuary and zip-lining would be great additions to your itinerary.
The Phuket Vegetarian Festival takes place in October, and is a particularly vibrant time to be in Phuket. However, November to February would normally offer the best weather conditions for your trip.
Avoid June to September, as this is the peak monsoon season. Although crowds will be lower, and prices cheaper, you may have your plans disrupted by weather conditions.
Don't forget your camera. Phuket is a beautiful island, with many photogenic viewpoints.
If you need to stock up on any supplies, look for a 7/11. These are the most ubiquitous supermarkets in Thailand, and offer reasonable prices. You can even buy ready meals to go, which they will warm up for you in a microwave.
The ideal time to allocate to Phuket would be at least one week. This would allow you to visit the Phi Phi Islands and Phang Nga Bay on day trips. However, for Phuket itself, four days would be the minimum we would suggest to get to know the place.
Has this guide helped you to plan your trip to Phuket? Anything else that you would like to know?
Like it? Pin it!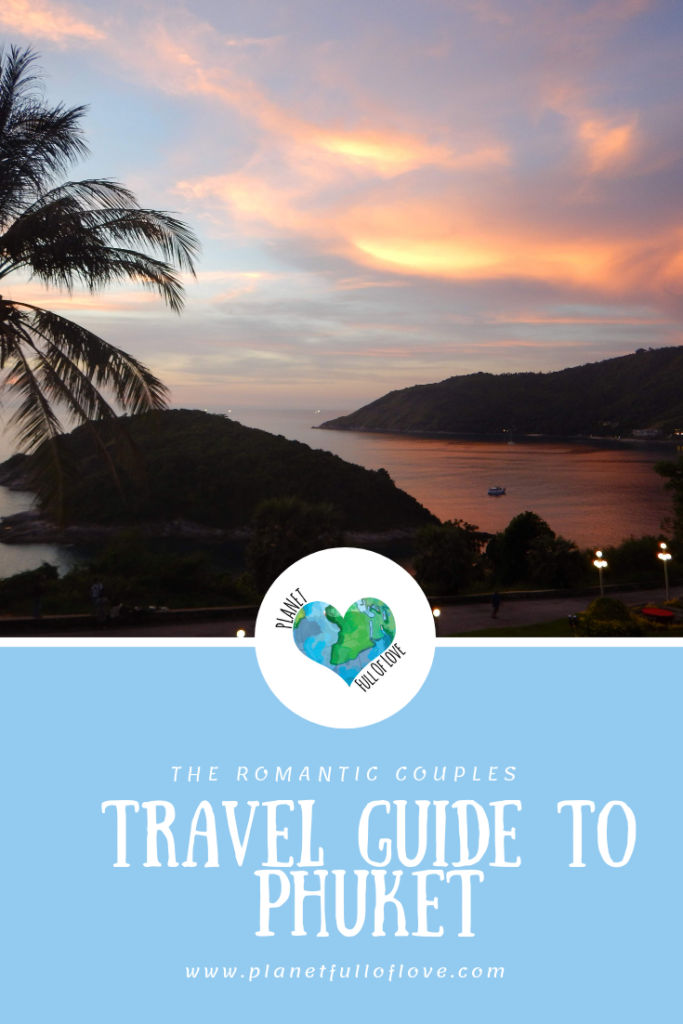 This post contains affiliate links. By clicking them to purchase your flights, hotels, and car hire, the companies involved pay a small commission to us at no cost to yourself. This helps to keep us on the road, creating guides like this one. Thank you for using them!