After our romantic evening dancing by Rudyard Lake in the UK's Staffordshire Moorlands, we decided to expand our search to find the best lakes in the world to dance next to. Our research has led us to the conclusion that the following are our must-see lakes, which would be perfect to take the portable radio and dance next to with your partner.
LAKE COMO, ITALY
Lake Como is famous for its aura of class and elegance. What a place this would be for a romantic evening. With glamour and sophistication, you won't feel out of place dancing next to this idyllic and upscale lake resort. Since Roman times, the most wealthy citizens of the world have headed here for their holidays, and the prestigious villas alongside its edge belong to people such as Madonna and Richard Branson.
PLITVICE LAKE, CROATIA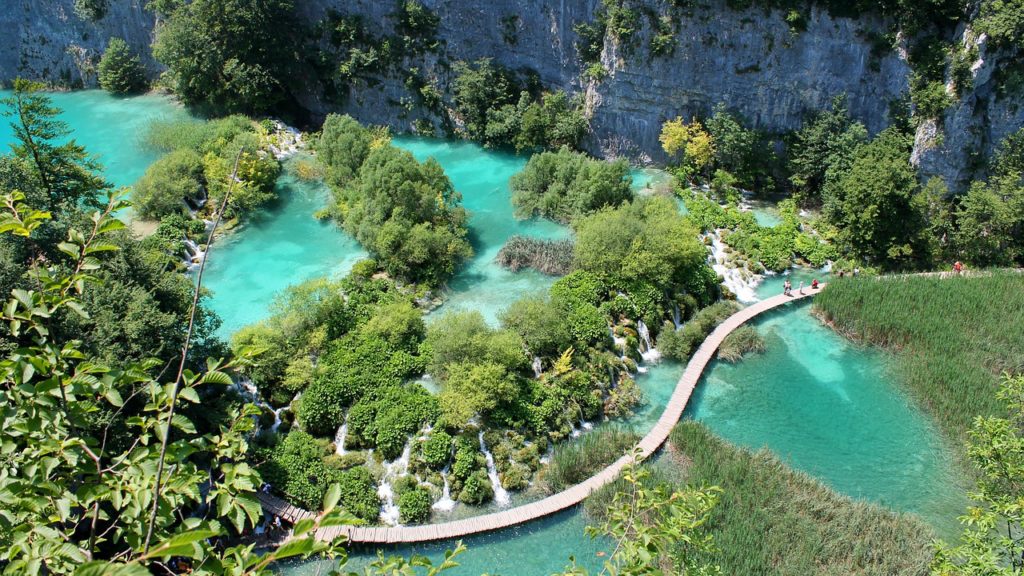 This other-wordly area has a series of lakes arranged in cascades. All of its sixteen lakes are connected through a series of rivers and karsts. The distinctive colours change constantly due to the sunlight and the mineral content, and just look mesmerising.
MORAINE LAKE, CANADA
Amongst the Rocky Mountains, in the Valley of the Ten Peaks, is this beauty. Being fed from a glacier, it reaches its peak in around June. At this point, its distinctive blue colour is at its most awe-inspiring. There are also plenty of hiking trails and mountaineering routes to give you something to do before the sun sets.
SHEOSAR LAKE, PAKISTAN
Best visited in summer, due to being snow bound over the winter, this is one of the world's highest lakes. Its crystal clear water and the small lush green mountains provides breathtaking views. You can camp around parts of the lake, and look out for wildlife including the Himalayan Brown Bear, and snow leopard.
LAKE PICHOLA, INDIA
This artificial fresh water lake was created in 1361! There are several palaces around the lake, and even in the middle of it! The Lake Palace is actually located on an island in the lake, and reached by speed boat. The James Bond movie Octopussy was filmed here too.
FIVE FLOWER LAKE, CHINA
The bottom of this stunning lake is criss-crossed by ancient fallen tree trunks. It looks incredible. Despite being rather shallow, it reflects multiple colours beautifully. You won't believe how clear the water is, allowing you to see the tree trunks majestically lying on the bottom.
LAKE TEKAPO, NEW ZEALAND
Lake Tekapo looks beautiful. Apparently, the best views can be had from the astronomical observatory. Don't forget to head down to the lake to dance until the sun goes down though!
THE DEAD SEA, JORDAN
Yes, the Dead Sea is actually a lake. As I'm sure you know, the ultra-high salt content in the lake allows you to float in the water. Even Herod the Great used its waters as a health resort over two thousand years ago. It is actually receding at a rather alarming rate, though Jordan are beginning to take some measures to secure its future. We have been to the Israel side, and would love to try out the Jordan side.
LAGUNA VERDE, BOLIVIA
Translatable to 'Green Lake', this is another salt lake, close to the Chilean border. With spectacular scenery, and hot springs, how could you fail to find romance? You may be joined in your dancing by flamingoes, which would be amazing.
LAKE NAKURU, KENYA
An even better place to see flamingoes is Lake Nakuru in Kenya. Sometimes, you can barely see the lake's surface due to the mass of pink! In fact, this is a spectacular place to see a wide array of wildlife, including warthogs, baboons, and rhinos!
Have you ever danced by the lake with your partner? Where would you recommend as one of the world's best locations to try it?