So our secret date was a five-course tasting meal, which meant a bit of extravagance was in order. We took advantage of a great deal which gave us an overnight stay in the four star Llansantffraed Court Country House Hotel in Abergavenny, Wales. It also included afternoon tea, and breakfast, as well as the dinner in the 2 AA rosette-awarded Court Restaurant, for little more than the cost of the dinner alone.
Is a tasting meal a good date idea?
A meal involving a tasting menu is one of those extra-special date ideas where you can sample small portions of multiple dishes that the expert chefs have dreamed up. In our experience, they tend to pair together ingredients that you really would not think would complement each other. However, the chefs really do know best! It is far more conducive to great conversation and debate than a traditional meal. This is because you have many unusual dishes to discuss, rather than just a starter, main and dessert. The tastes that the dishes conjure up are like an explosion of flavour in your mouth. This will surely get you in the mood for romance.
Making an effort
Despite booking the deal with a five-course tasting meal, it was actually seven courses, which we counted as a bonus. Amy looked unbelievably stunning in her black sequinned dress, while I wore my 'feather' shirt. We were initially shown to the table we were at earlier on for afternoon tea in the lounge. Here we were served drinks, and the first course, which was canapes. This consisted of many of Amy's favourite nibbles, such as crispy prawns, olives, and nuts, as well as cheesy balls.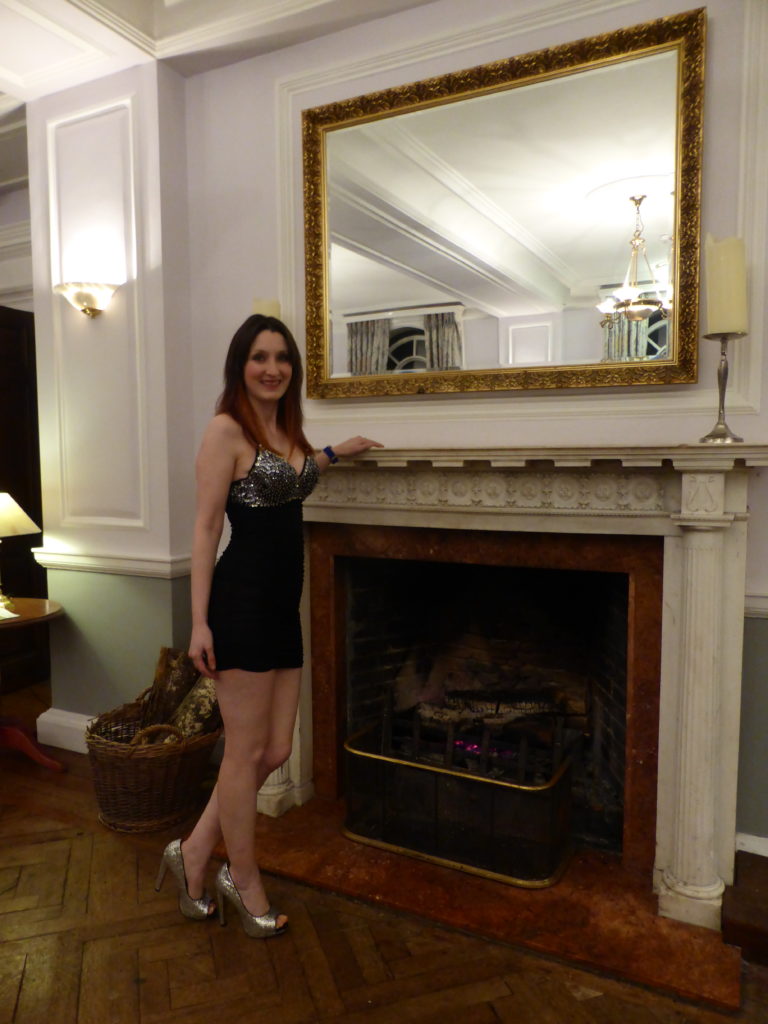 After eating these, we were shown to our table in the corner of the very romantic Court Restaurant, which has two AA rosettes. The beam ceiling and rose on each table added to the ambience. Many artworks, which were also for sale, were displayed around us. We were immediately provided with a jug of tap water and some bread, both white and sourdough.
In fact, we had barely started on the bread when our next course came out, which was 'Cauliflower and Truffle'. The menu was purposely vague on what the dish was, instead just mentioning one (two in this case alone) of the main ingredients. Perhaps this is to provide some form of guesswork to tantalise your senses further. The waitress was supposed to tell us in detail what each dish was as she brought them out, something our first waitress did rather badly. She was young and seemed inexperienced, reading it out quickly and leaving. This left us guessing still what was in the dishes. However, the following courses were served by a much more knowledgeable waitress, who greatly added to the experience.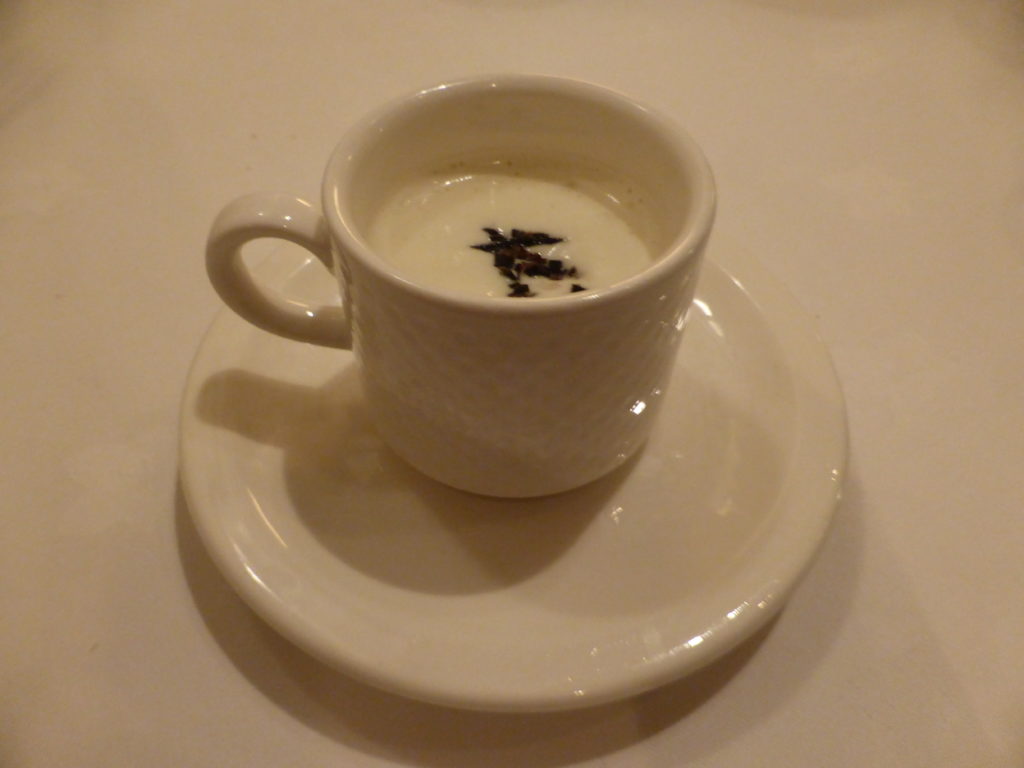 Maybe its best to not know what is in each dish
The dining room was still rather quiet at this point, though it did fill up a bit as the night went on. They cleverly put each couple around the room to give a bit more privacy. This is much better than what many places do, putting everyone together in one area. The next course was Foie Gras, not something either of us was familiar with. Perhaps it is best that we did not know that this luxury food product is made of the liver of a fattened duck or goose. It was very much like a pate, served with brioche bread. Amy spread hers on the bread, whilst at first I ate them separately. I think Amy's way was much better, as I changed my tactic to hers halfway through, and much preferred it.
Course four was Scallop, which didn't appeal to me at all, since I am not a fan of seafood. However, the small portion, combination of flavours, and impeccable presentation did result in an enjoyable experience. The Mallard course seemed to be the main course, since it was a much larger portion than the others. The waitress advised us to be careful as the duck had been shot, so there was a possibility of the bullet being in our food. Lovely!
Luckily the banana course wasn't just a banana on a plate
The final two courses were sweets. Firstly, Panna Cotta, which was served with a slither of orange, grapefruit and a speck of mango jam. Finally, was the intriguingly named Banana course. Rather than just serving a banana on a plate, it was a banana tart, served with chocolate ice cream and peanut butter.
After our final course, we were asked if we would like tea or coffee. To my surprise, Amy replied that she would like some tea, so I decided to join her. This wasn't included in the price though, so we had to pay extra. It annoyed the frugal side of me, as firstly we still had our original drinks, as well as a jug of water, and secondly we had free tea in the room!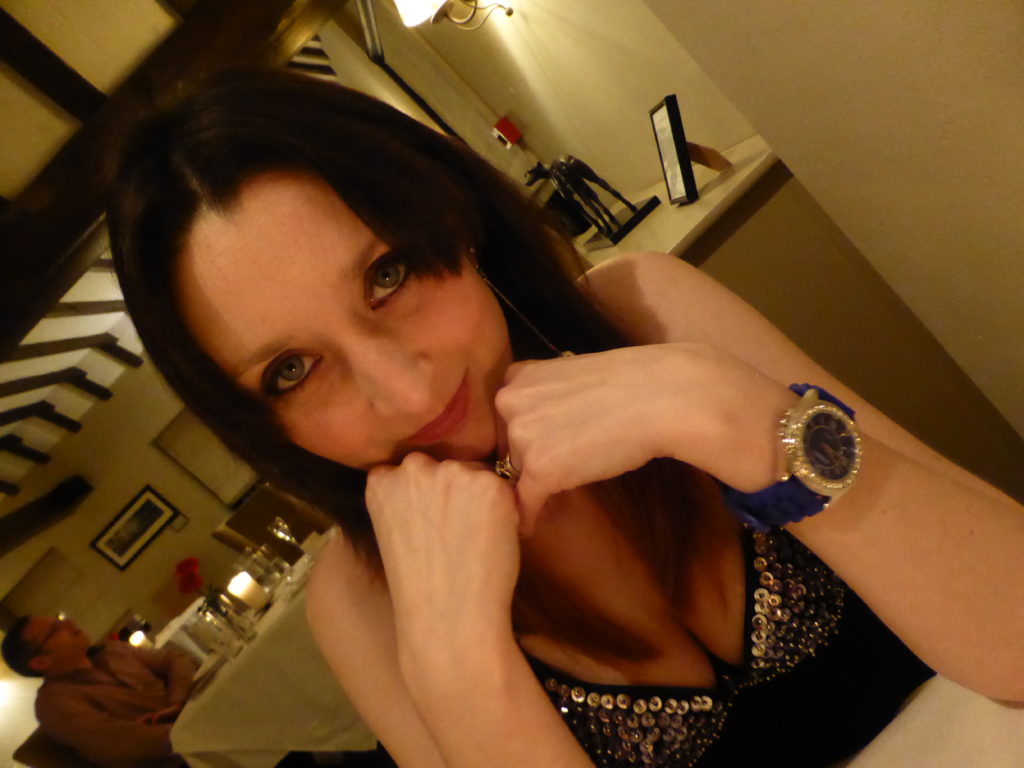 Still, it extended our date for a while longer, and we had two cups each from the pot. We drank them whilst enjoying some petit fours, which were also brought to the table. These were three bite-sized desserts, including a lime macaroon, nougat, and orange truffle.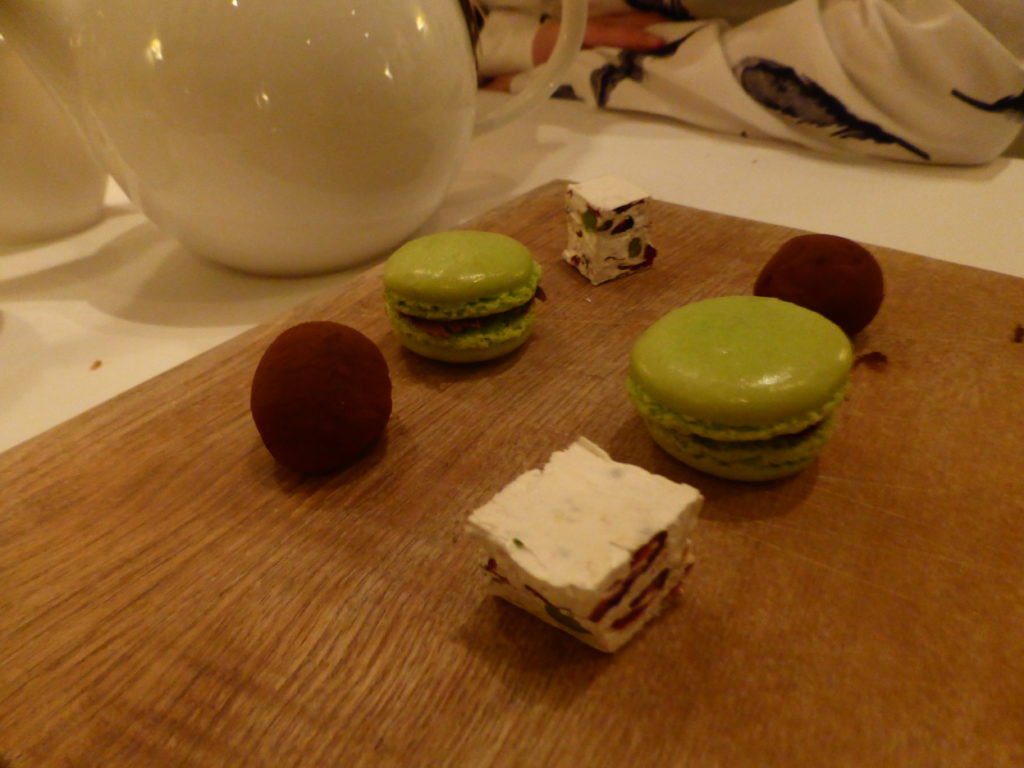 Overall, it was a very, very enjoyable evening. The night had a similar feel to the time we went to Michelin-starred Sat Bains in Nottingham, though it struggled to reach the heights of that place. We asked for the menu on the way back to the room,. We thought was probably a weird thing to ask for, but the waiter said it was a very common request! Even better, we just had to climb a set of stairs and we were in our room. This provided a much more romantic end to the evening than a long drive home.
Have you ever taken your date for a tasting dinner? How do you rate it as a date idea?