Disney Springs is the expanded and renovated shopping, dining, and entertainment complex in the Walt Disney World Resort, in Orlando. We celebrated our perfect honeymoon at Walt Disney World, so wanted to share some of the insane amount of planning that we did for that trip, with you.
Here are some of the most romantic things to do at Disney Springs.
CRUISE ON THE SASSAGOULA RIVER
We stayed at Port Orleans Riverside, so had many, many trips on the twenty minute ride between the hotel and Disney Springs. What's more, the service is completely free! There are fifteen boats running four different routes from Disney Springs. The one to Port Orleans Riverside goes from the Marketplace dock behind the Rainforest Cafe. On the relaxing journey, you will pass the Mardi Gras themed French Quarter resort, as well as scenic woods and villas. Be sure to try both the daytime and night-time experience, since both are equally special.
ROMANTIC ITALIAN WATER TAXI CRUISE
If you want to push the boat out, however, why not plump for the romantic Captain's Guided Tour of Disney Springs, on board the breathtaking Venezia. This experience comes complete with chocolate covered strawberries and a champagne toast.
TREAT YOURSELVES TO A FEW SWEET TREATS
Disney Springs is full of temptation for those of us with a sweet tooth. Disney's Candy Cauldron, Goofy's Candy Company, and the Ganachery, are but a few of the tantalising options. Oh, and don't miss Ghirardelli Soda Fountain and Chocolate Shop, and Sprinkles Cupcakes. So much choice!
CHARACTERS IN FLIGHT
Located on the water behind Starbucks, this icon of the area will really take your love to new heights. This tethered helium balloon will whip you 400 feet in the air for a breathtaking view of the entire area. We went in the daytime, and it was romantic enough. You can ramp the romance up even further though, by timing your flight with sunset or one of the fireworks displays.
THE BOATHOUSE
Sit out on the dock overlooking the water and enjoy a wonderful meal at the Boathouse. Again, you could time your meal with sunset for an unforgettable view. They specialise in seafood, of course, so be sure to order the oysters to send your love into overdrive. After dinner, take a stroll around the dockside, and sit on a bench with the rest of your drinks to admire the collection of boats docked up.
CIRQUE DU SOLEIL LA NOUBA
Unfortunately, you only have until December to enjoy La Nouba, since they are ending their long run. If you get chance though, definitely take the opportunity to see this dazzling show. Circuses aren't always romantic, but Cirque du Soleil shows are. The clown Pierrot offers many sweet and romantic moments with his unrequited love for the ballerina.
DISNEY DESIGN-A-TEE
This unique store offers you the chance to customise your own t-shirt. You can put your own words, and one of numerous character images onto the shirt. Why not do what we did, and get matching t-shirts? Ultra cheesy, but ultra romantic.
DISNEY PHOTOPASS STUDIO
Pose for a romantic-themed photoshoot with a Disney photographer. What's more, all of the photographs are included free of charge with the highly recommended Memory Maker packages. If you don't want the whole batch, you can purchase the best one on its own too.
DISNEYQUEST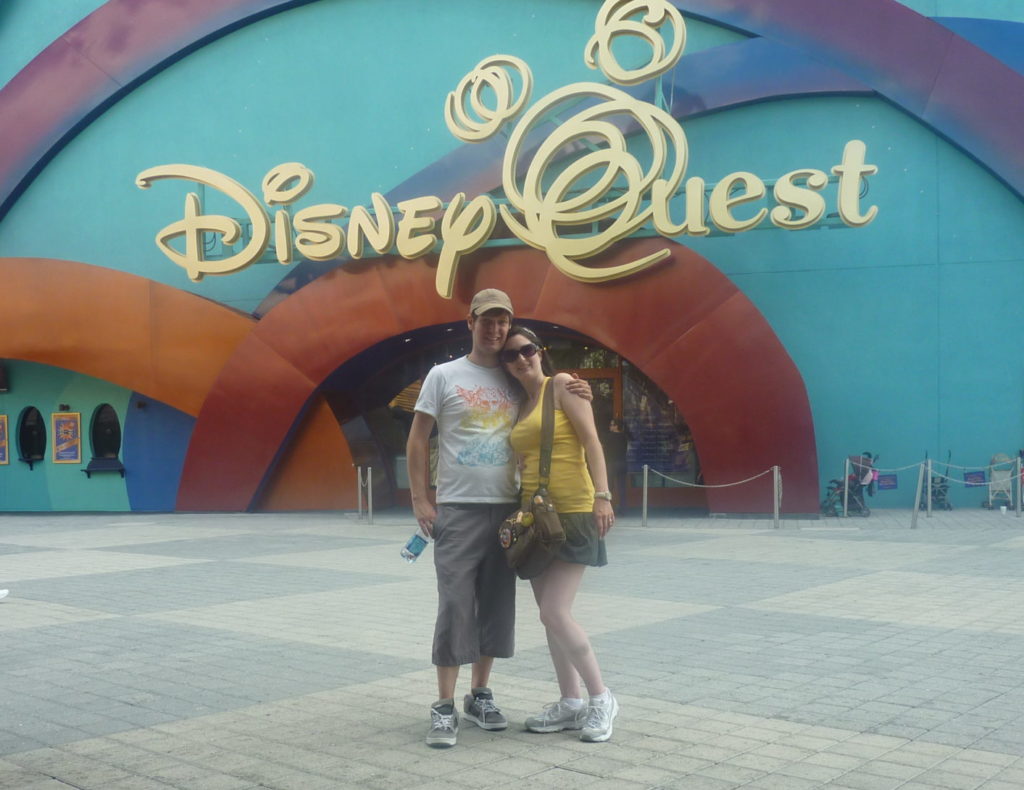 After many years of fun, DisneyQuest is closing in July. If you are there before then, be sure to say goodbye with a visit. It offers five floors of interactive fun and arcade-style games that will have you both feeling like teenagers again. Don't miss the chance to write and record your very own love song to your partner in the Radio Disney SongMaker attraction.
DISNEY'S DAYS OF CHRISTMAS
Providing a hint of romance for years to come, purchase your very own personalised Christmas tree decoration from this year-round store. Hang it on your tree each year to remind you of this romantic day. Also, look for the references to the iconic Christmas love song, the 12 Days of Christmas.
THE LEGO STORE and ONCE UPON A TOY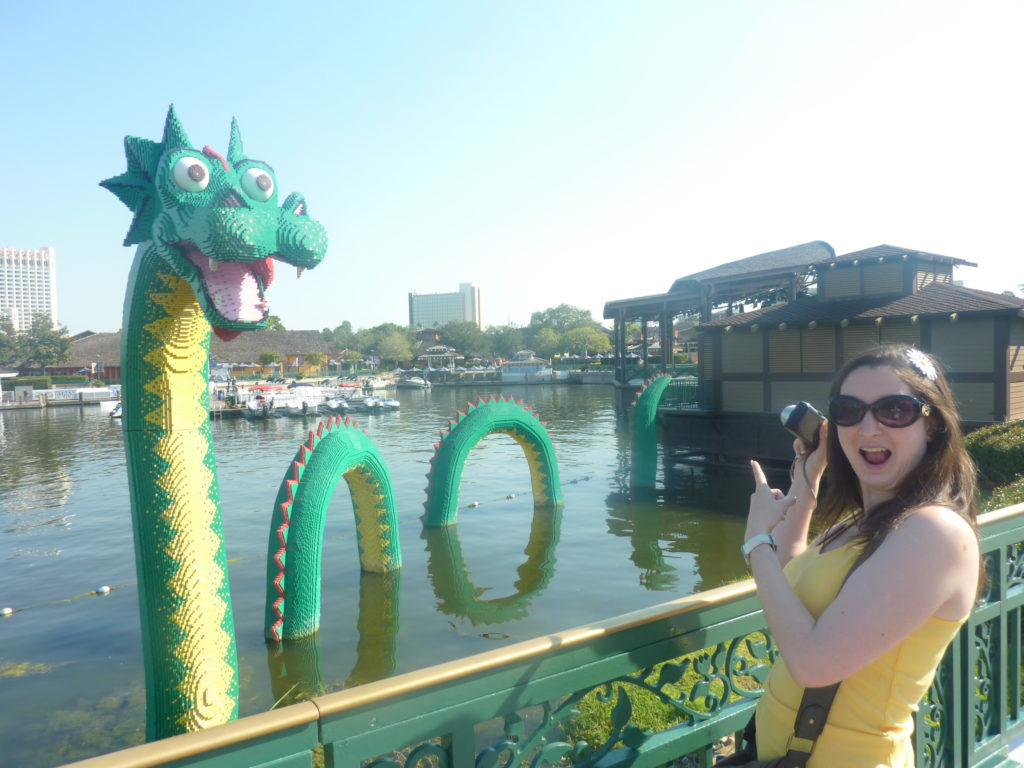 If you want to embrace the inner child in both of you, a trip to the Lego Store or Once Upon A Toy will do just that. Have fun building things out of Lego together, or create your own Mr and Mrs Potato Head to represent the two of you!
LIVE ENTERTAINMENT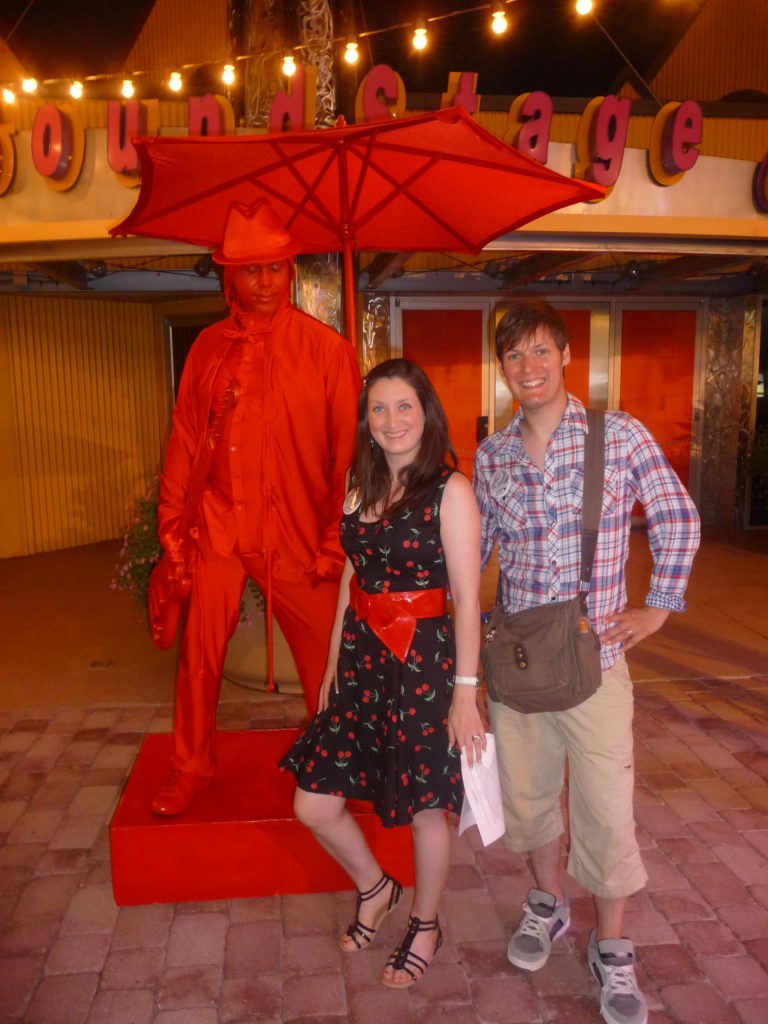 Stroll around the West Side, and keep an eye out for a multitude of live entertainment options. They are literally everywhere you look, and it is lovely to cuddle your partner whilst you and your partner are being serenaded.
ORLANDO HARLEY-DAVIDSON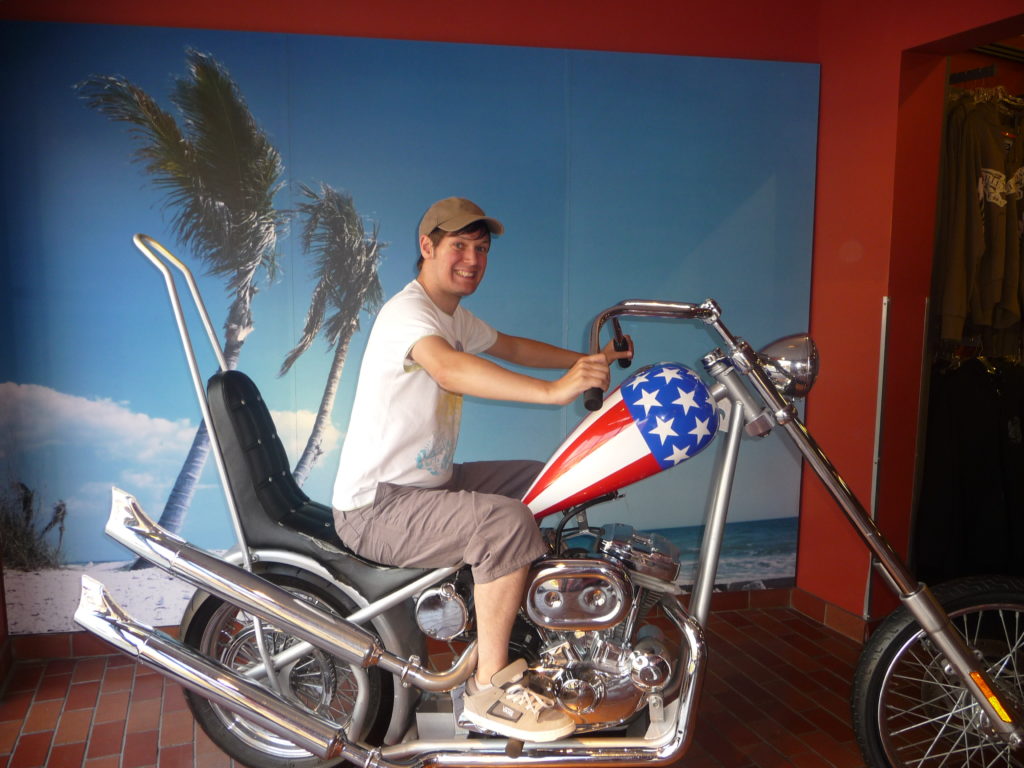 Not much would be more romantic than heading off into the sunset on the back of a Harley Davidson motorbike, with the wind in your hair. You can do the next best thing, with an action photograph on the back of one in this store.
PLANET HOLLYWOOD OBSERVATORY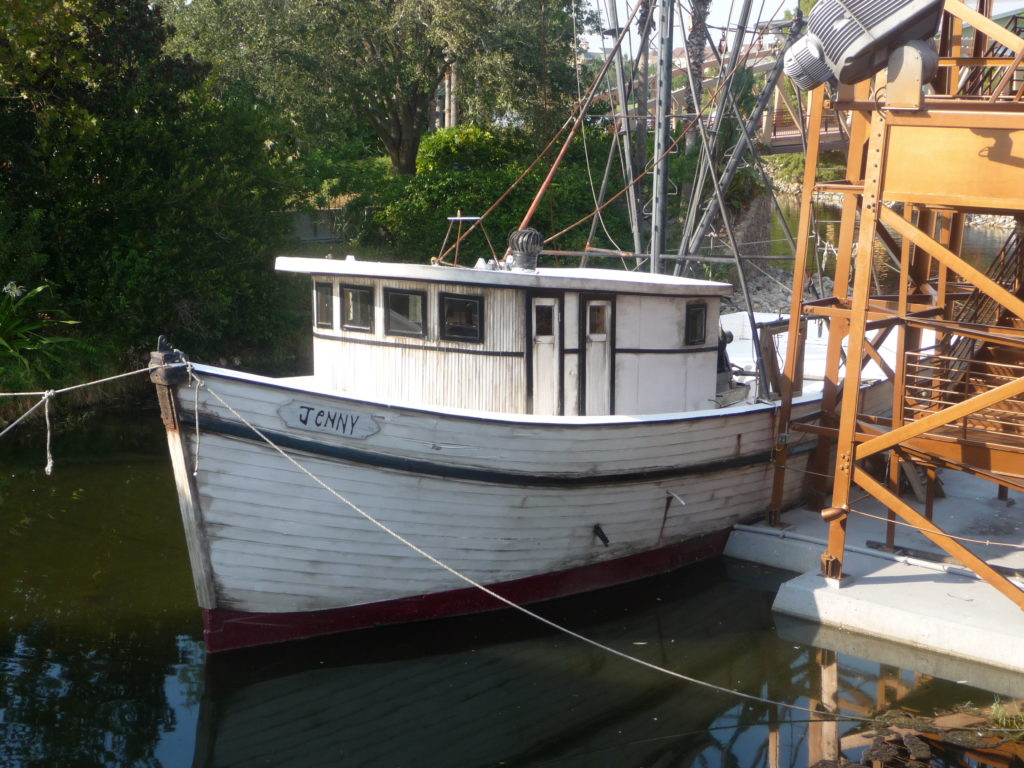 Dine with the stars in the Planet Hollywood Observatory. Its classy interior will make you feel like you have gone back in time to a more glamorous age, perfect for romance. The impressive collection of Hollywood memorabilia might have you reminiscing about earlier date nights to see those very films.
RAGLAN ROAD
Not a traditionally romantic ambience, yet this fun and lively spot is an amazing place to spend an evening with your partner. This authentic Irish pub was actually built in Ireland, and shipped over to Disney Springs, to create a fabulous atmosphere. You can drink, dance and sing along to Irish drinking songs, or watch the talented Irish dancers take to the stage.
T-REX
OK, a dinosaur-themed restaurant seems even less romantic than an Irish-themed one. However, the immersive theming at T-Rex will have you smiling from ear to ear. The Ice Age room would be our recommendation, with the colour-changing ice cavern providing the perfect prehistoric backdrop to a suitably silly and cute evening out.
WORLD OF DISNEY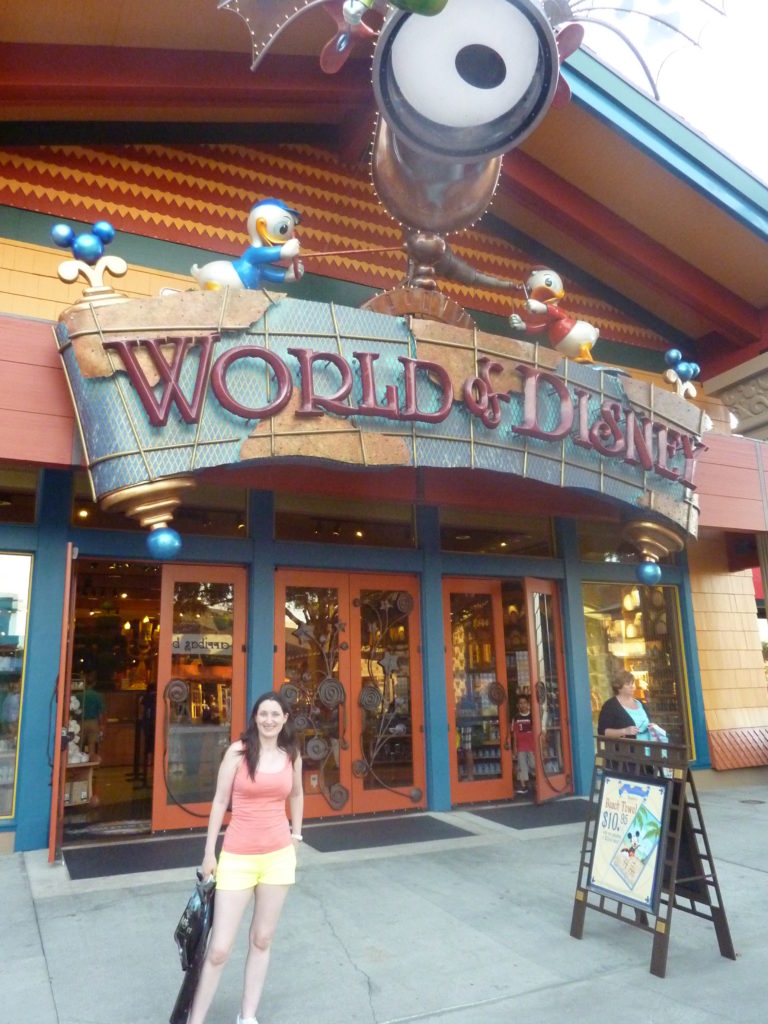 The world's largest Disney store got even bigger recently! You will find everything and anything in these twelve huge rooms of shopping space. There is a huge selection of romantic items, many of course featuring Mickey and Minnie or other iconic Disney couples. Pick something out as a souvenir of your romantic trip.
AMC THEATRE
You can enjoy dinner and a movie in one here, with touch-screen ordering and reclining chairs. They even offer a selection of premium cocktails to enjoy over your movie. Be warned though, that the meals aren't really top restaurant quality, so maybe just share a platter, or spoonfeed each other a dessert depending on whether you are planning to have your main meal before or afterwards.
SPLITSVILLE
The atmosphere at this all-American bowling alley is upbeat and fun. Bowling is always a great date idea, and being in the most magical place on Earth will only add to the romance of the occasion.
MORIMOTO ASIA
This one-of-a-kind dining experience offers the chance to eat top quality pan-Asian cuisine, including made to order sushi dishes. The elegant surroundings, akin to a glitzy hotel lounge, offer the most beautiful ambience to enhance any date night.
Have you been to Disney Springs with your partner? Are you planning a trip? Let us know and we'll be sure to offer more help!