After our recent secret date spring cleaning the garden, we started to think of other great date ideas to do in your yard. We say yard, as ours is more yard than garden, but these ideas can be mostly done in a garden too. Here are some of our suggestions.
COOK OUT
Get your chef's hat and disposable BBQ out, and head into the yard on a pleasant evening. Not only will the food be delicious, but you will get to spend some special time with your partner. Make sure to take turns in control of the grill, so that you can both relax whilst eating your meals.
BUILDERING/URBAN CLIMBING
You can try this phenomenon in the relative safety of your own back yard. Have you seen the antics of Vitaliy Raskalov on Instagram? He must have started somewhere, right? Get out into your yard and see what you can grab onto and climb. See who can get on the roof first, if it is safe to do so of course.
MOONLIGHT PICNIC
Check out when the next full moon is taking place, and that the skies are clear. If they are, take a romantic picnic outside. Get together all of your usual picnic supplies, and a bottle of champagne. Then, toast to your relationship as you cuddle under the romance-filled glow of the moon.
HAVE A FRUIT CAKE TOSS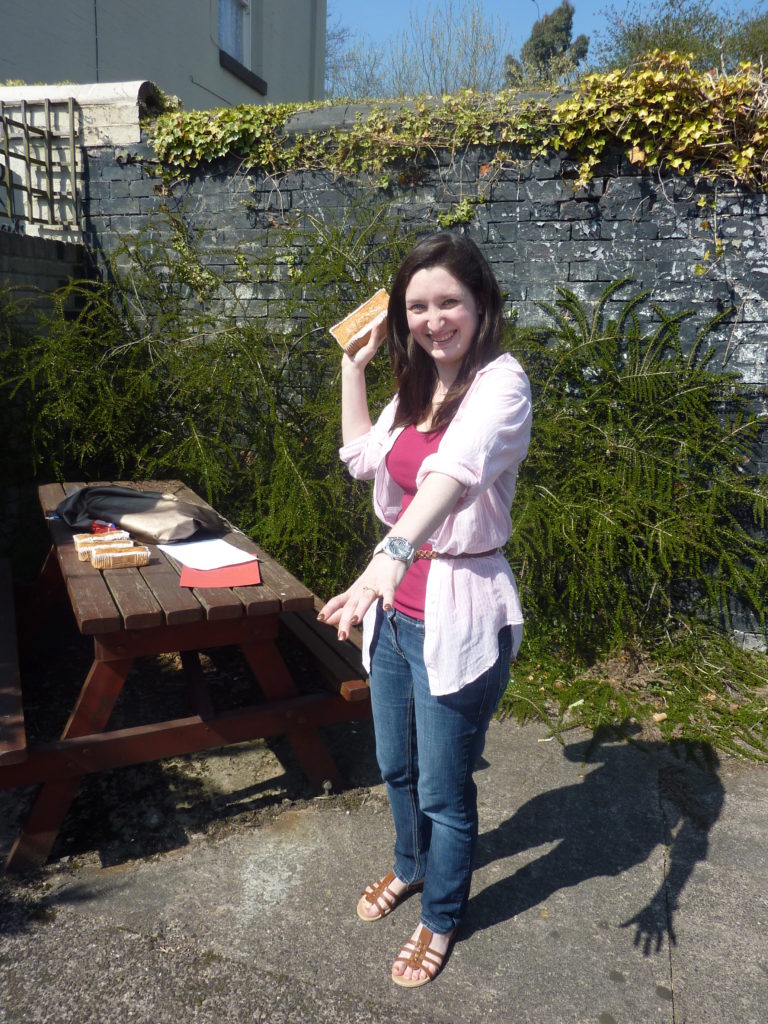 After hearing about the Manitou Springs Fruitcake Toss in America, we couldn't wait to try it out in our own back yard. It was absolutely hilarious! We even roped Scott's parents into having a go, which resulted in Scott's Dad misthrowing his onto the roof! As long as your yard is big enough (you don't want to be hitting neighbours or passers-by on the head now), don't miss this unique date idea.
BUILD A ROCK CLIMBING WALL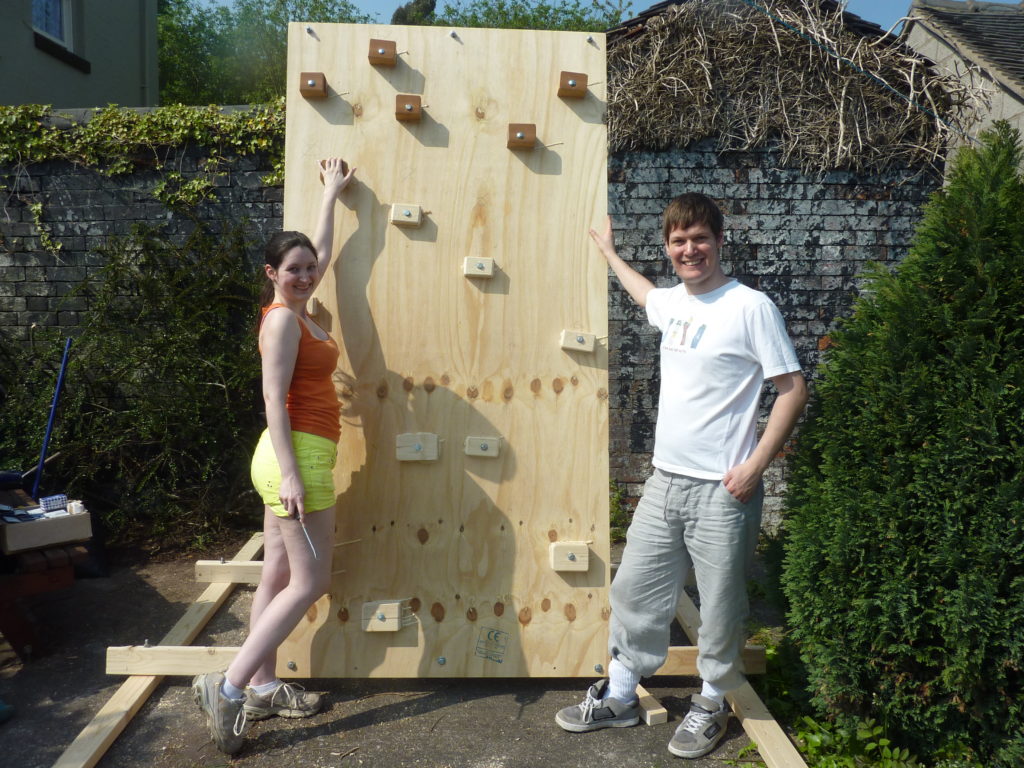 This one requires space, and a few DIY skills. If you don't have the necessary tools, ask someone you know if you can borrow theirs, and who knows, they may offer to help too! It is a great way to achieve something together with your partner that takes planning, skill, and time. Even better, you can nip outside whenever you feel like it for an impromptu climbing date once it is finished.
TRAMPOLINE
If you have a trampoline in the yard, it is actually one of the best date ideas to do in your yard. You can have a lot of fun together, trying out new tricks and bouncing about.
ENTRAPMENT
Do you remember the game show Strike It Lucky/Strike It Rich? Get the family or a group of friends round and recreate the game in your back yard! All you need to do is get some questions together and make up some A4 sheets of paper to represent the monitors on the TV game, including those hot spots. We actually got our questions from watching an old episode on YouTube and copying them down, but you can make your own up just as easily.
EGG FLIRT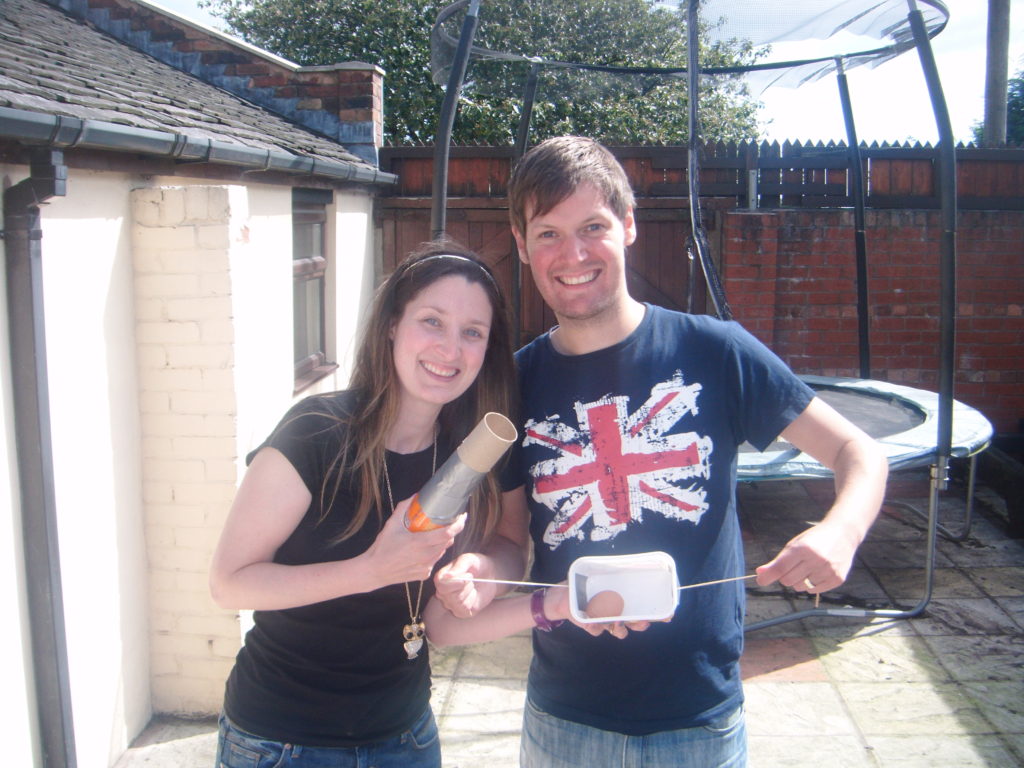 The amount of fun you can have with eggs is unbelievable! Of course, being rather messy, the yard is the best place for these games. This makes a perfect double date too. Games you should play include the egg and spoon race, throwing eggs at a target on the wall, playing catch with an egg (a risky business), and egg roulette, where you choose (blindfolded) an egg from a selection. All but one, is hard-boiled. You then have to crack the egg you chose over your head, meaning one person will get very messy! The finale should be the egg flirt. Before the games start, split off to each make a contraption, using things like cardboard tubes, plastic containers, and rubber bands, which can be used to fire an egg as far as possible. It is fascinating just to see what each other will come up with!
SUICIDE (GAME)
A great game that you can enjoy in the back yard is called Suicide. It can be played with just the two of you, but we found it more fun when we roped our nephew into playing, so it is a great way to involve family members too. You start by throwing a tennis ball against a wall as hard as possible. It bounces, is caught and the game continues in the same way. However, if your throw misses the wall, or hits anything else en route to the wall (such as another player or the ground), then you have to run for the wall as fast as you can, or you are liable to be tagged out. It is great fun!
BUILD A SNOWMAN
Don't see winter as a time to completely hide indoors. You can still come up with date ideas to do in your yard. Take advantage of the snow to make yourselves a snowman in the back yard! We made a Snowman and a Snowlady recently. Have a little competition and see who can make theirs the cutest, and don't forget those hats and scarves, buttons, and a carrot for the nose. It is a great way to bond and make memories together.
CLEAN OUT THE GARAGE
If your garage is anything like ours, it will become a dumping ground. Things you no longer want, are broken and you haven't got round to fixing, and keep piling in until the place looks a tip. You will gain some amazing clarity of mind without the stress of all of the clutter, probably find things you forgot you had (and would use), and could even make a pile of stuff that you could sell to make a bit of money for date nights!
Have you tried any of these date ideas to do in your yard? What dates have you and your partner had in the yard/garden?