We recently celebrated the fifteenth anniversary of us being a couple with a weekend in Cardiff. As the capital city of Wales, it was very exciting to experience some of the city's highlights. We spent our first day at St. Fagans National History Museum.
St Fagans National History Museum
St Fagans is the top rated Cardiff attraction on Trip Advisor. It is slightly out of the city centre, and offers free admission. There is a £5 charge for parking. However, you can find free parking in the village if you don't mind a bit of a walk.
We arrived just after 10.15am, around fifteen minutes after it opened. The weather throughout the day was a bit miserable to be honest. There were very drab skies and it was piddling with rain intermittently, more so as the day went on. We entered through the back gate, which you had to be buzzed through to enter. This would have, I assume, been the entrance to St Fagans Castle. It is renowned as one of the finest Elizabethan manor houses in Wales. Currently, though, it isn't looking its best and is closed for refurbishment. Interestingly, despite its name, it looks nothing like a castle!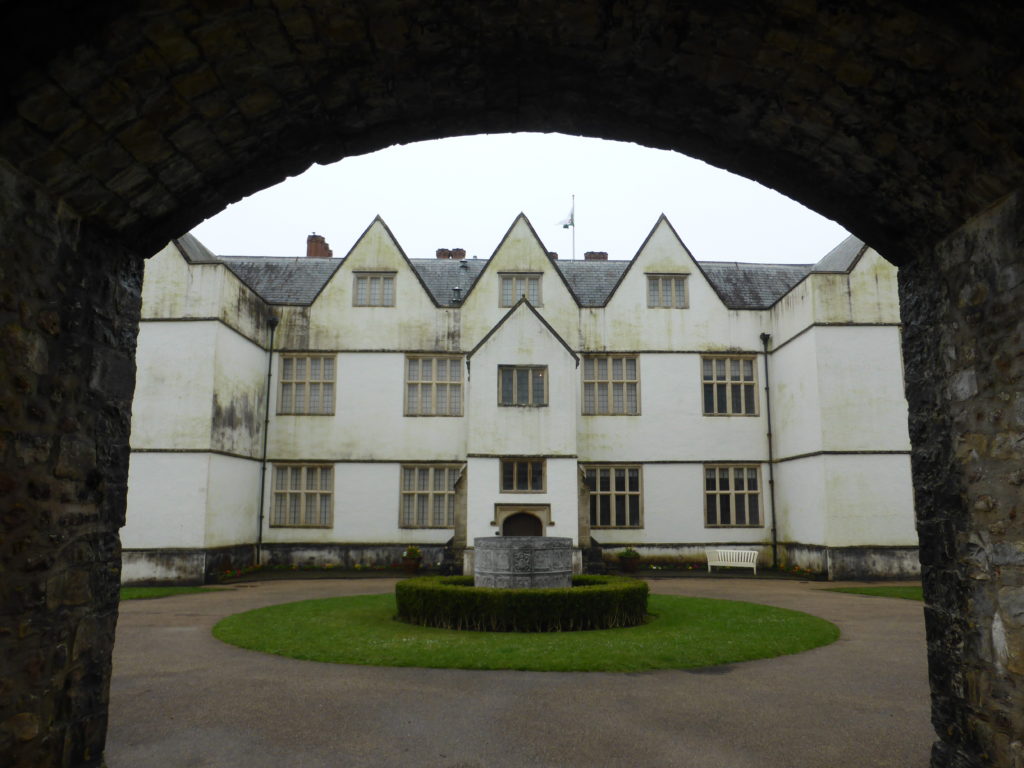 Gardens
The grounds of the house were very impressive, although at this time of year there is a more barren look to it. I imagine it would be stunning in the summer. However, the area below the house is awe-inspiring even at this time of year. There is a series of rectangular ponds at the bottom of a steep bank, filled with attractive features such as small islands and cascading waterfalls.
The tree roots attached to the walls up the top were extremely atmospheric too. However, we had to walk along a rather high wall to avoid walking through huge puddles up here.
As we got down to the lower area, we came across a beautiful area that looked like a small part of a river. Statues were creeping in the bushes. It was an idyllic scene, even in drab weather like today. There is a shop by the main entrance, where you can purchase a map for 50p, or a guidebook for £4. This includes a map inside the back cover. We got the guidebook, and it gave us loads of great information about the sights we saw throughout the day.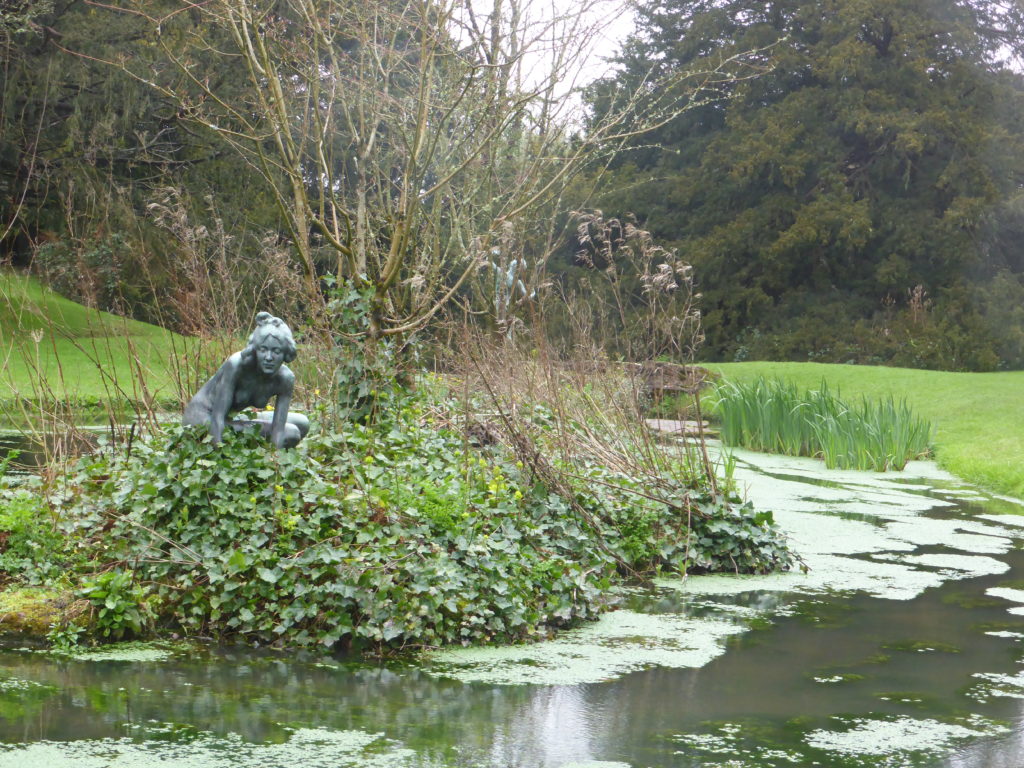 Historic Buildings
From the shop, we started our proper tour of the National History Museum. This place was just wonderful. What they do here is take buildings from across Wales that are derelict or threatened with demolition, and rebuild them here brick by brick. Of course they only do this for buildings that are historically important. However, it is not for grand deeds or famous people that lived in them, but to show how people in Wales lived throughout the ages.
There are over 50 original buildings here, from ancient farmhouses, to a medieval church. Mainly, they are buildings that were once typical of their area. This sort of thing would normally be lost forever as old buildings are demolished to make way for new ones. It offers a fascinating glimpse into the past.
Most of the buildings are open to explore, and many even had roaring hot fires. This was very welcome at times on this chilly day. The first one we entered was a red farmhouse, which had a box-bed by the fire, and a roof that from the inside appeared to be a huge basket! Outside was a circular pigsty, a bee shelter, and an outside toilet which had a seat for two people!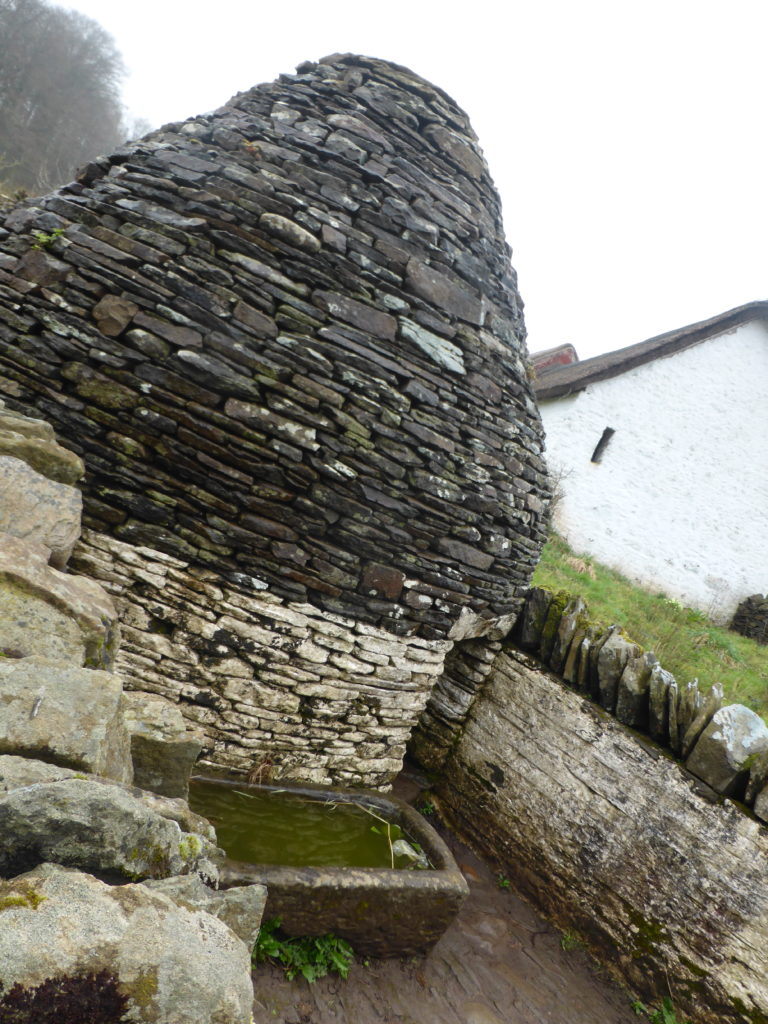 Next we went into the corn mill, which had a huge water wheel on the side, before taking a stroll down to the farmstead that has been here on its original site since 1820.
Lambing Season
We had heard that it was lambing season, and spotted a huge barn, where we spotted countless sheep with their newborn babies. We found out that many were only five days old, and some had been born that morning. One newborn lamb was being cleaned off by its mother, and trying to stand up. It looked very wobbly on its feet. They had spray-painted T1, T2, and T3 on to both the mothers and their lambs, so that they could tell who belonged to who.
We spent quite a while admiring the extremely cute lambs, which really didn't look like sheep. There was also a very unusual bird, with a huge body and tiny head, and we actually explored the farmhouse itself.
Iron Age Roundhouses
We took a bit of a detour at this point to see the Iron Age Roundhouses. These were a reconstruction, but it was very well done, and really atmospheric.
A farmhouse from the Middle Ages was covered up with tarpaulin. However, you were still able to go inside. One of our favourites, though, was the cottage of a farm labourer at the end of the 18th century. It looked very quaint, and fairytale-like.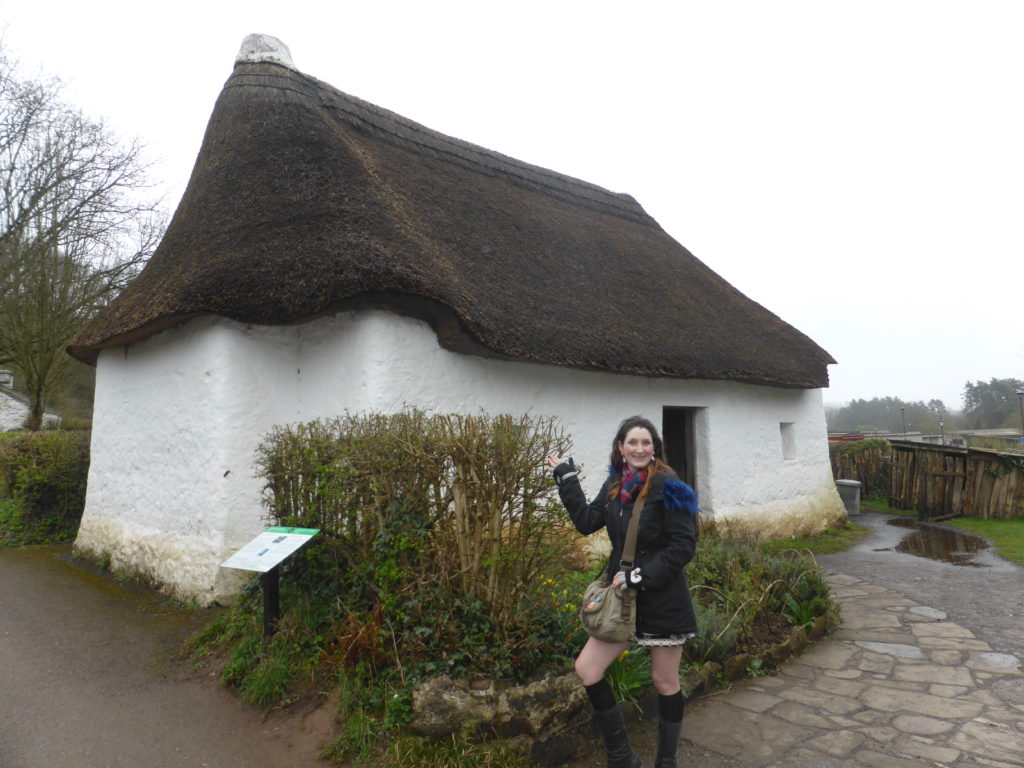 Another cottage, and its cowshed, were both built with mountain boulders. Probably the reason they have survived to this day. We chatted to a gentleman inside who told us that Stanley Matthews, from our hometown, was his hero. A large field in the centre of this area had lots of animals, including some lambs that appeared to be wearing coats!
Real-life Model Village
Many of the buildings in the next area were from the late 1700's to the early 1900's. They included a tollhouse, bakehouse (where we got a free sample of gingerbread), tailor's shop, the smallest free-standing post office in Wales, and a grocery store, with scales, big blocks of cheese, and jars of sweets.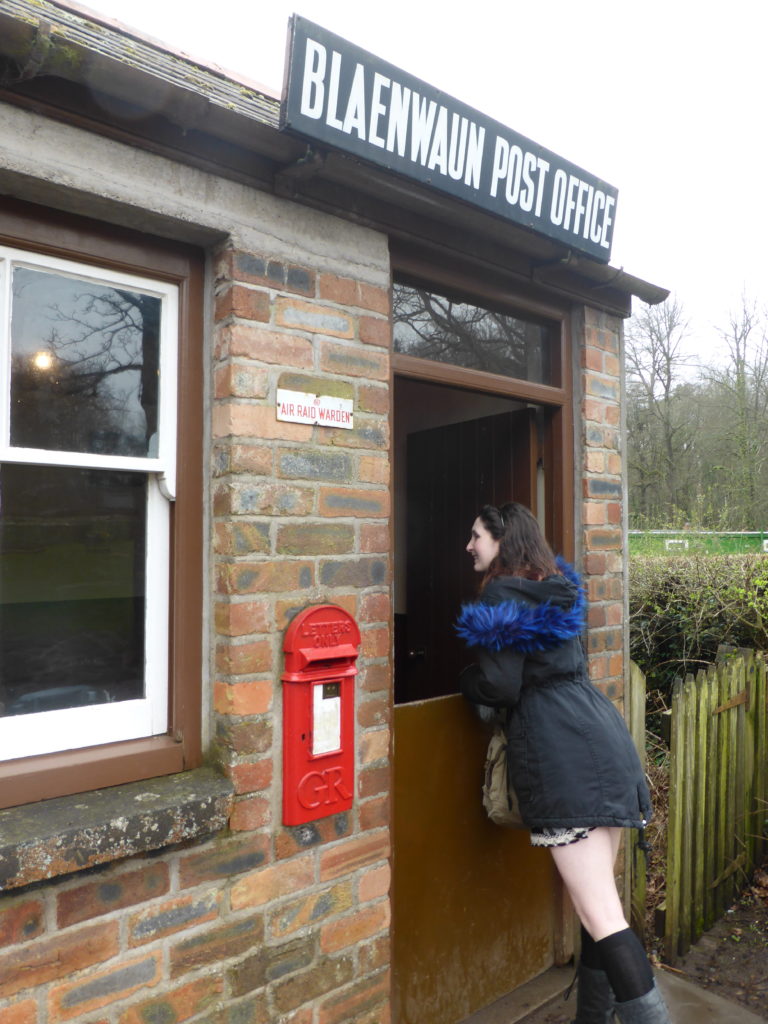 They also had a Victorian urinal, war memorial, and a Workmen's Institute. Outside here was a vintage fairground, which charged extra for rides and sideshow games.
One exception to the roughly similar timeline in this giant sized model village, was the Cockpit. This was from the 17th century, and housed cock fights until it was banned in 1849. It was a circular arena, and you can only imagine the raucous atmosphere in here back then.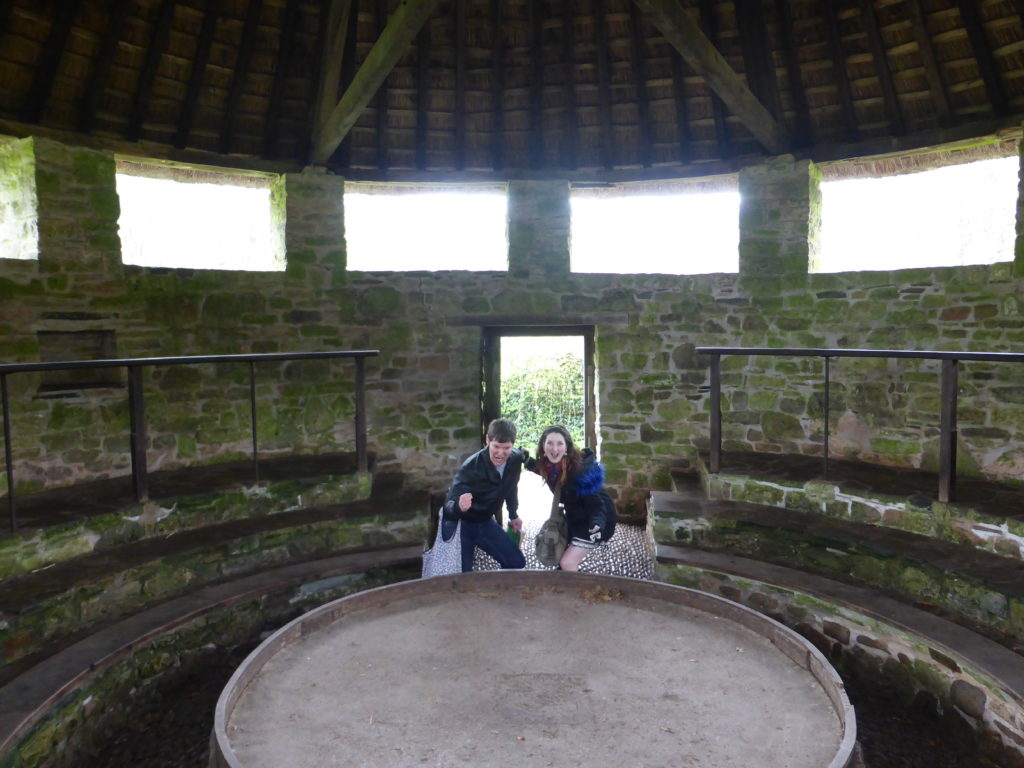 Next up, we visited a pottery kiln, a sawmill, and a tannery. This was a very large building that apparently housed newts, though we didn't see any.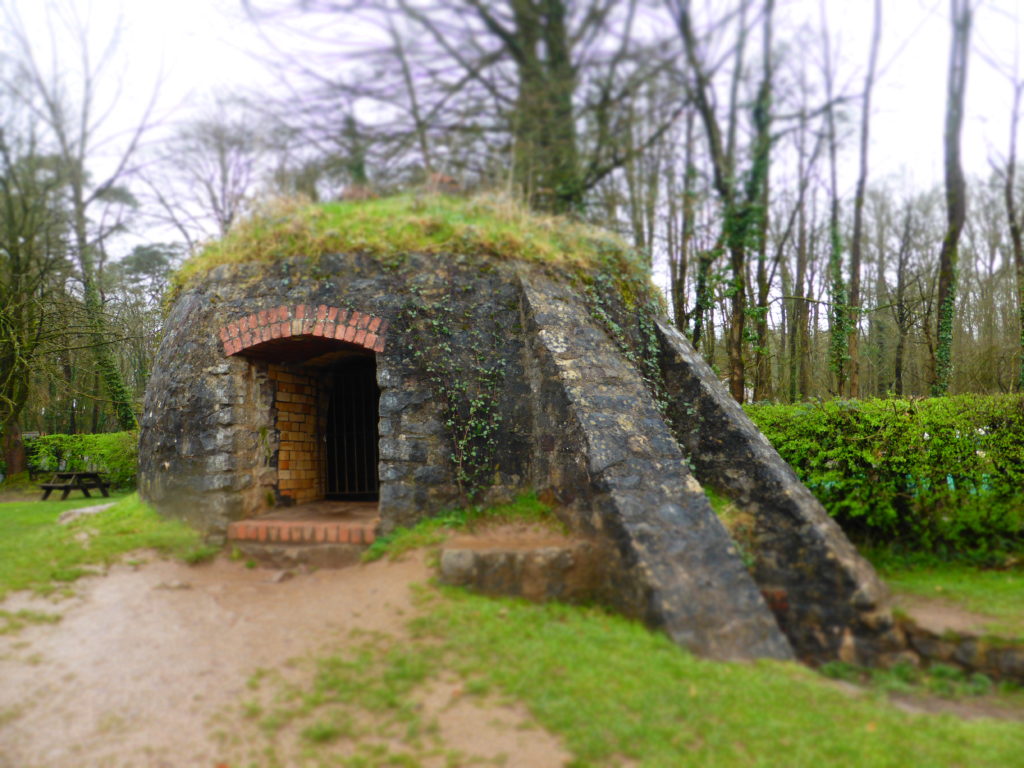 The Gorse Mill was next, then a Tudor Trader's House which took us down a staircase to a lower level. We followed the path to the Medieval Prince's Court. This is under construction at the moment.
Medieval Church
Another of the highlights of the day was the medieval church with brightly coloured wall paintings. They were impressive, though some of the actual paintings weren't exactly the standard of the Old Masters.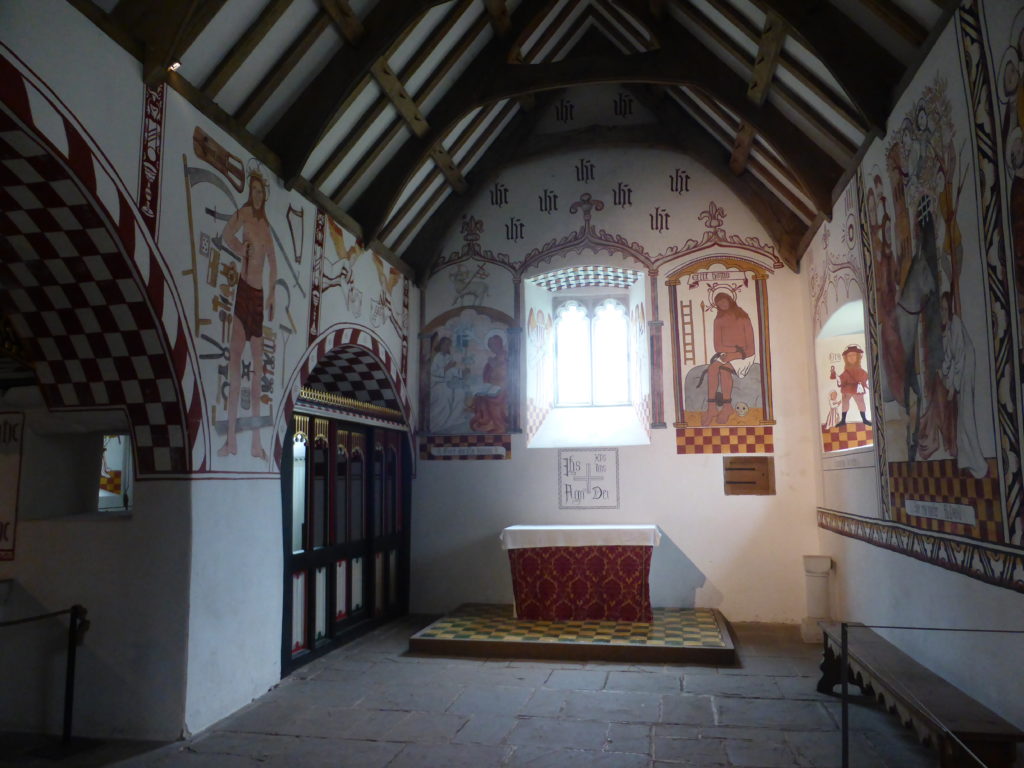 We walked around another farmhouse from the Middle Ages, with wooden shutters in the windows, and read about a Civil War battle that took place around here.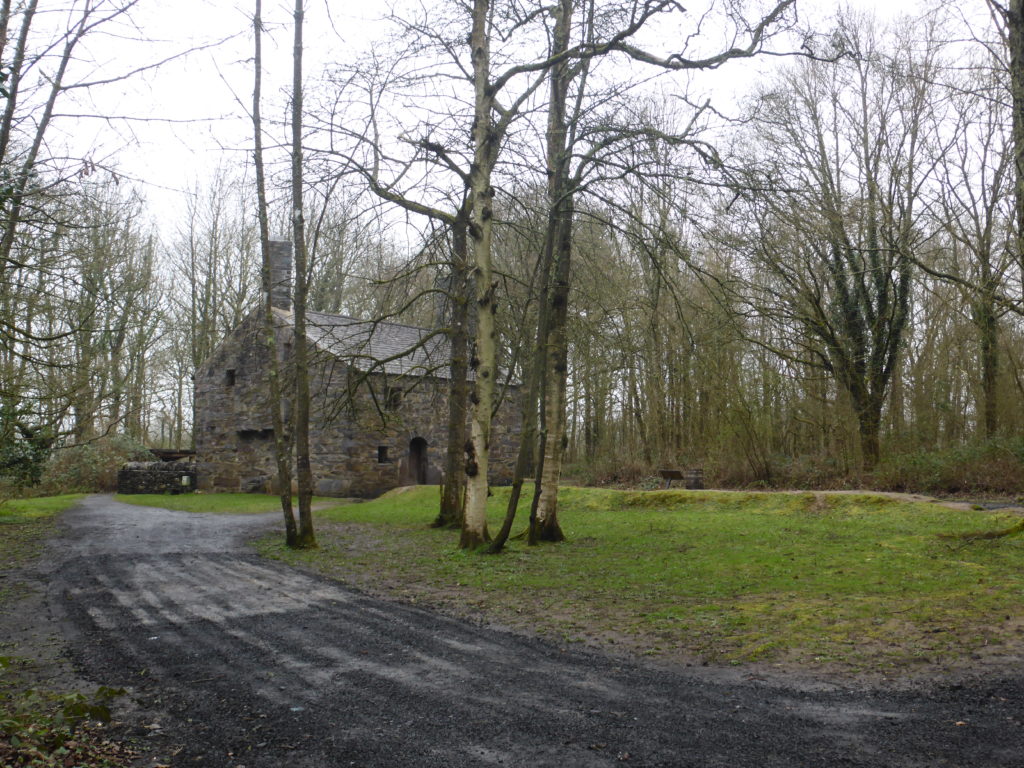 A barn from around 1600 had some very pink pigs in its field. We also got a picture in a face-in-the-hole that was fittingly, a fox for Amy, and a hedgehog for me, as my nephew used to call me a hedgehog for some reason.
The next section featured a lot of craft workshops. The only one still working by now was the Clogmaker. He spent a bit of time showing us his works, and told us the origin of the word sabotage. Others that we peered into included a Saddler's workshop, and a Smithy.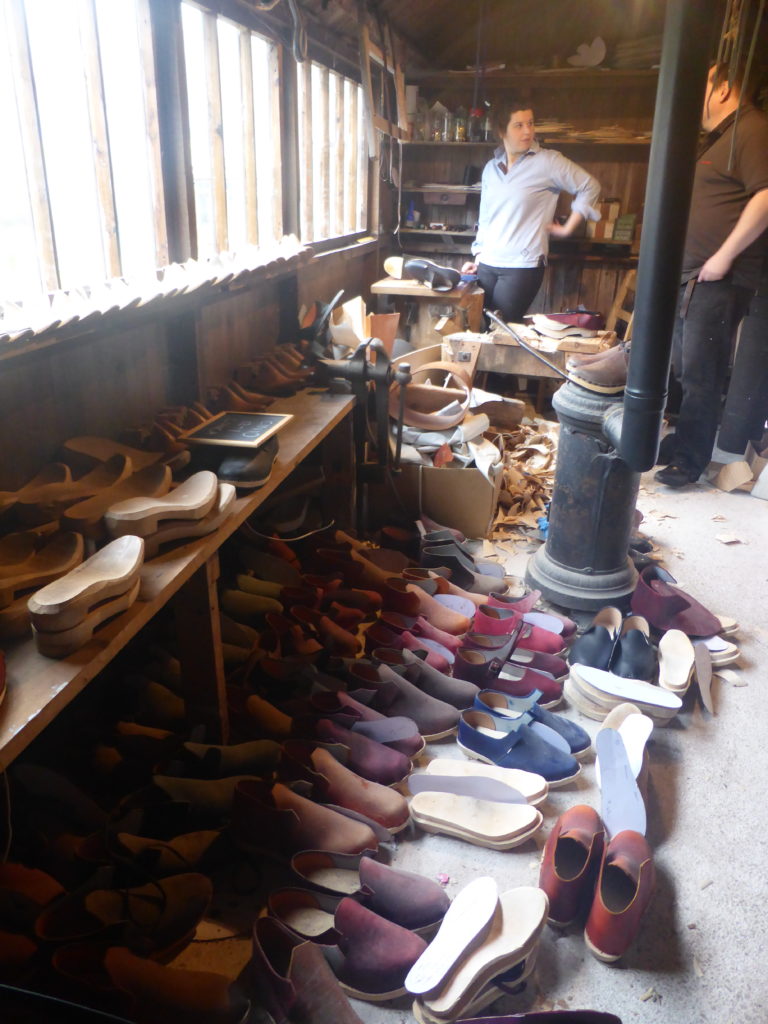 Houses throughout the 20th Century
We visited a Victorian school, which reminded us of our own Victorian Primary Schools. Next up was a very interesting terraced street, built around 1800 to house iron workers. There were six houses, and each had been decorated as they would have been in various periods of their history. The 1980's one had some rather familiar looking kitchen units! The street had a communal oven that the houses would have likely taken turns to use. The gardens were also decorated by the time period. They featured items such as a pigeon-house, and an Anderson Air Raid Shelter.

Just around the corner was a post-war prefab bungalow, that was unfortunately locked up. The next farmhouse actually had a chimney so large that you could get into it, which must be a first for us. In this house, the cattle would have lived at one end, and the owners at the other.
We also saw a Hayshed, and a timber-framed farmhouse. We were nearly at the end of the circuit now, with just the chapel to visit before getting back to the entrance. It was quite pretty inside, with a gallery upstairs.
The final bits were pretty much on the way back to the back entrance where we had come in. They included a large timber-framed barn, a woollen mill, a boat house next to what apparently used to be a swimming pool (which now looks disgusting, water-wise), and a summer house from Bute Park which overlooked the pretty area we saw earlier.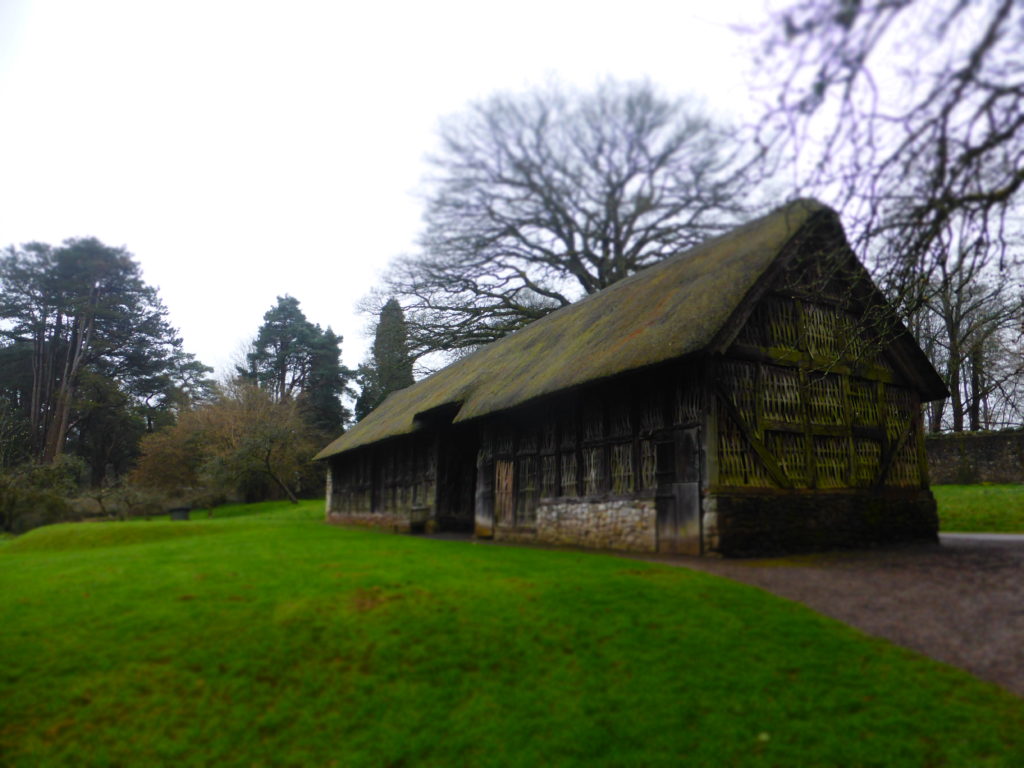 Most of the other bits of gardens, such as the Italian Garden, seemed locked up now. To be honest, it was so wet and miserable that we were ready to leave. Despite this, we thought the museum was absolutely top-notch and still great in such drizzly weather. I imagine it would be even nicer in summer.